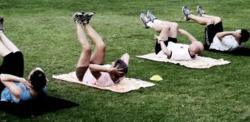 Logic will get you from A to B. Imagination will take you everywhere. - Albert Einstein
Chino Hills, CA (PRWEB) August 01, 2012
Boot camp operators are no stranger to investing in education. According to Livestrong.com, it costs anywhere from $600 to $6,000 to become a personal trainer. The average price-tag ranges from $250 for courses offered by the American Council on Exercise to $595 for more intensive courses offered by ISSA (International Sports & Sciences Association), NASM (National Association of Sports Medicine) and NCSF (National Council on Strength and Fitness). Unfortunately, none of these courses touch upon boot camp marketing at all – which is what a forward-thinking entrepreneur truly needs to be successful.
"Seven-Figure" Sam Bakhtiar is a Persian-born American with over 20 years of experience in fitness training and entrepreneurship. He is the CEO and founder of the Fitness Concepts boot camp franchise in California, which grosses over $2.4 million a year. His boot camp marketing products once sold for $97, but he is offering a special summer promotion where people can download his premium information manual, "Six-Figures In 67 Days," free of charge.
"People ask me why I would ever offer my boot camp marketing secrets to anyone, let alone for free," Sam says. "But it's my professional opinion that industry best practices should be shared freely to strengthen the boot camp name in general. Our fitness niche has been damaged by fast growth and inexperienced business owners who only cared about making a quick buck, without producing a quality product. I hope my easy-to-follow, step-by-step manual will help new entrepreneurs get started off on the right foot and avoid many of the common pitfalls that can be quite costly."
Sam confesses that he is always adding to his boot camp marketing manual and rewriting portions of it to reflect the evolutions he sees out in the field. Unlike many so-called "gurus" or experts out there that sit back on their laurels and sell information products all day, Sam Bakhtiar is still working in the trenches as a personal trainer and boot camp operator every day.
In "Six-Figures In 67 Days," Sam breaks down the process of running a successful boot camp into easy-to-replicate steps. He details how to strengthen one's core offerings and create a loyal fan base, as well as how to perfect closing techniques and re-activate old clients. He discusses what methods of online boot camp marketing work and what methods are wastes of time. He'll give boot camp owners a comprehensive list of free and effective advertising platforms and spell out the systems he uses to manage time and business operations more efficiently.
A number of boot camp operators are raving about the effects of this boot camp marketing manual. Typical results include decreasing operating expenses by $1,000 and boosting profits by $5,000 over the first two months. By the third month, most people are well on their way to making their first $100,000. "From there, the sky is the limit," Sam explains. "I'd like to invite anyone who has read my free manual and loves it to join me in Las Vegas for one of my millionaire mastermind retreats, where my network of fitness pros will show you how to earn your first million dollars."
The free download of "Six-Figures In 67 Days" can be accessed at http://www.Super-Trainer.com.
About Sam Bakhtiar
Sam Bakhtiar is a Persian-born American with over twenty years of experience in fitness training and body building. After completing B.S in Premed and Nutrition, Sam also received a degree of doctorate of Chiropractics. Along with being one of the best fitness trainers, Sam is also a business and marketing expert. After establishing a successful fitness training business with substantial income, Sam is helping other professionals in the industry to achieve their business goals. For more information, please contact using the following information.
Contact Information:
Sam Bakhtiar
Fitness Concepts
909-393-9075
http://www.super-trainer.com