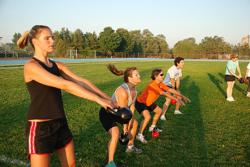 Vision without action is daydream. Action without vision is nightmare. - Japanese Proverb
Chino HIlls, CA (PRWEB) October 22, 2012
A new boot camp marketing manual is available for free download at http://www.Super-Trainer.com. "Six-Figures In 67 Days" provides step-by-step advice on how to break out of the "rat race" and open a fitness boot camp. It's offered as a solution to industry professionals and personal trainers who feel like their careers are beginning to stagnate.
Current boot camp owners can also benefit from the information in this manual, as it covers how to cut operating expenses, close more sales, structure a valuable program, minimize risk, and focus marketing efforts on the most productive types. Fitness business professionals will learn how to set their own schedules, put much of the business on "auto-pilot," track clients using software, create a successful referral program and how to charge $100-an-hour to boost income.
The manual's author, "7-Figure" Sam Bakhtiar, is a professional body builder, personal trainer and boot camp owner with more than 20 years of industry experience. After getting his B.S. in Premed and Nutrition, as well as his Doctorate of Chiropractics, he mentored business owners who earned million and even billion-dollar salaries to uncover secrets for success. Now, he brings in more than $2.4 million a year and mentors other personal trainers and fitness business owners to help them take a shortcut to success.
"The more people that are skilled in boot camp marketing, the better it will be for all of us," Sam explains. "If we create more credible, professional and productive boot camps, word will spread and more clients will want to join. On the other hand, if companies are using bait-and-switch tactics, delivering poor value, and scaring customers away with deplorable service, then we're going to lose all these prospects to home gyms. So I'm more than happy to share what I know -- because, honestly, there is plenty of demand nationwide and my boot camps can't possibly take on everyone."
One of the first people to download "Six-Figures In 67 Days" was Roxie Beckles. "When I found the manual, I felt like a slave to my job. I had been in the business for 12 years, I was feeling burnt out, and I was seriously considering a total career change," she recalls. "But Sam's manual filled me with confidence as I realized how easy it would be to follow in his footsteps and replicate his success. Sure enough, I had doubled my income in the first month just by employing a few of the many strategies he so clearly outlined!"
One may visit http://www.Super-Trainer.com for a free copy of the boot camp marketing bible, "Six-Figures In 67 Days."
About Sam Bakhtiar
Sam Bakhtiar is a Persian-born American with over twenty years of experience in fitness training and body building. After completing B.S in Premed and Nutrition, Sam also received a degree of doctorate of Chiropractics. Along with being one of the best fitness trainers, Sam is also a business and marketing expert. After establishing a successful fitness training business with substantial income, Sam is helping other professionals in the industry to achieve their business goals. For more information, please contact using the following information.
Contact Information:
Sam Bakhtiar
Fitness Concepts
909-393-9075
http://www.super-trainer.com