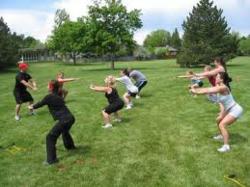 If you keep saying things are going to be bad, you have a chance of being a prophet. - Isaac B. Singer
Chino Hills, CA (PRWEB) October 24, 2012
For personal trainers, owning a fitness franchise business is seen as an easy path to riches and success. However, new entrepreneurs often find that they are not as "in control" as they would like. They realize that the franchise owners are not truly vested in their franchisee's success – and all too often, are left to fend for themselves. Sam Bakhtiar – an industry multi-millionaire and CEO of the Fitness Concepts boot camps – is offering a new weekend retreat to help current and prospective boot camp owners learn how to make over $100K a year – and still have time to enjoy life!
"I've been to many stuffy board rooms and college lecture halls," Sam says. "It's just not my style. I like to learn sitting around an in-ground pool or sitting on a comfy couch with a cocktail. I like to pick the brains of brilliant people while touring a new city or on an ATV trip through the desert. My boot camp marketing events are the most fun you'll ever have – yet also the most life-transforming in terms of the content you're exposed to."
Each participant to Sam's boot camp marketing retreat receives The Super Trainer Blueprint for Success, which includes topics like:

The psychology of selling
How to market ethically
Methods for getting new clients online
How to delegate and outsource tasks
Using Facebook to build a subscriber list on autopilot
Search Engine Optimization tips and tricks
How to create programs that have more value and encourage referrals
And much more!
Sam assembles fitness industry experts earning six and seven-figure salaries from across the country. Typically, he will have 12 or more speakers who speak in an informal setting -- like his Las Vegas Mansion – or the grounds of a five-star hotel. Each participant receives a yellow note pad, as well as catered food and drinks during their stay. As an added bonus, participants receive an hour-long one-on-one business coaching call with each of the presenters.
The boot camp marketing mastermind events have received rave reviews. Past attendees have called it "game-changing," "heavy-hitting," "next-level" and "the single-most content-rich event ever attended." The retreats attract current business owners, as well as those who are still dreaming of branching out to own a fitness studio or boot camp.
Dates and locations may vary, so individuals are instructed to visit http://www.Super-Trainer.com and click on the "Get Coaching" tab to get more detailed information on the next fitness business retreat.
About Sam Bakhtiar
Sam Bakhtiar is a Persian-born American with over twenty years of experience in fitness training and body building. After completing B.S in Premed and Nutrition, Sam also received a degree of doctorate of Chiropractics. Along with being one of the best fitness trainers, Sam is also a business and marketing expert. After establishing a successful fitness training business with substantial income, Sam is helping other professionals in the industry to achieve their business goals. For more information, please contact using the following information.
Contact Information:
Sam Bakhtiar
Fitness Concepts
909-393-9075
http://www.super-trainer.com