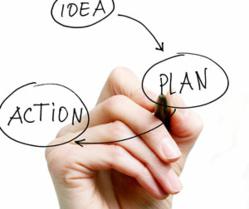 Missed deadlines, misaligned objectives, and lack of communication are just some of the problems that can throw a monkey wrench into the successful implementation of a project.
San Diego, CA (PRWEB) March 07, 2013
Caltrans has launched another major freeway renovation project in San Diego, as reported on Fox 5 San Diego. If all goes according to plan, Caltrans officials are predicting a completion date of winter 2015. However, Bop Design, a San Diego web design agency takes this opportunity to caution small business owners that projects of this size and scope rarely go according to plan.
"Complex business projects with a lot of moving parts—like construction projects or website redesigns—always seem to take longer than you plan for, even when everything goes smoothly," says Jeremy Durant, Business Principal at Bop Design. "Missed deadlines, misaligned objectives, and lack of communication are just some of the problems that can throw a monkey wrench into the successful implementation of a project."
According to Durant, these and other issues can be easily avoided with a little foresight and planning. Here are a few common problems that arise during projects and suggestions for overcoming them.
Problem: Lack of clear objectives.
Solution: Nothing slows down a project like having fuzzy objectives because people end up going down many different roads. Getting back on track requires constantly revisiting where the project is going and why. Having clearly defined, written goals will help to keep any project moving along at the desired pace.
Problem: The deadline isn't fully understood by all parties.
Solution: Few things are more frustrating than missing the final deadline because the vendor doesn't know about it. If a business is attending a tradeshow at the end of May and must have a brochure by then, they need to communicate the deadline well in advance – both verbally and in writing.
Problem: The deadline isn't realistic.
Solution: Unrealistic deadlines often lead to rushed, sloppy work, which can lead to doing it all over again. To avoid this common delay, companies should set appropriate deadlines for the type and scope of project. The needs of the vendor should also be taken into account. For example, print projects typically require at least five to 10 business days for printing and shipping. Website design projects typically take two to three months due to their complexity. While most vendors can offer an expedited timeline, that speed often comes with a higher price tag.
Problem: Lack of timely feedback.
Solution: Web design projects usually unfold in stages, so the web design and development firm needs to clearly state what kind of feedback they need and when they need it for successful completion of each phase of the project. In return, project managers need to commit to investing the time to review all necessary items and providing clear, direct feedback.
Problem: Too many cooks in the kitchen.
Solution: Design project vendors need timely feedback, but not when it comes from 20 different directions. It's okay to have input on the project from a few key players. But feedback should always be coordinated and forwarded to the vendor through one person or a small team (two to three people, at most). This will make the vendor's job easier and allow them to stay on track with the project timeline. The vendor should also understand who has the authority to make changes and who doesn't.
Problem: Changing decision makers in the middle of the project.
Solution: Ideally, one person or team on the client side will oversee the project from beginning to end. However, circumstances often dictate otherwise. If a transition has to occur, the client should bring the new decision maker(s) into the project as early as possible so they can to be brought up to speed without undue delay. They should also make sure everyone is aware of the upcoming transition, and clearly define who will be responsible for what once it takes place.
"Most important, stay on top of things by conducting regular internal project review meetings to assess the status of the project on your end," adds Durant. "If you aren't sure where your vendor is, ask. This will give you peace of mind knowing that things are still on track. And if small problems have arisen since the last meeting, you can identify and resolve them before they grow into giant obstacles that could cause lengthy delays."
About Bop Design
Bop Design is a San Diego web design agency with offices also in the New York metro area. We express a business values through branding, advertising, design and web design. We also help attract a firm's ideal customer through search engine optimization and search engine marketing. The marketing firm's focus is on small businesses that want an external team of marketing specialists to help give their brand an edge in the marketplace.