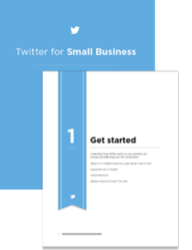 With the rise of the web, marketing is now more of a dialogue with businesses continuously conversing with their customers.
San Diego, CA (PRWEB) June 19, 2012
Twitter recently released the "Twitter for Small Business Guide," which is designed to help small business owners not only learn about the benefits of leveraging Twitter, but also how to use it at a more functional level. The guide showcases how the the social media platform can increase customer engagement and drive sales. Bop Design, a San Diego marketing agency with offices also in New Jersey, focused on the needs of small business, condenses the guide for time-crunched small business owners and highlights the most critical Twitter strategies for small businesses.
The Twitter guide can be accessed in full at https://business.twitter.com/smallbiz_guide/?ref=tw-btc-smallbiz. With over 100 million active users, Twitter is one of the largest networks in the world. Its 250 million tweets per day have turned it into an interest-driven media machine that's introduced new channels for communication – not just between people, but relevant businesses as well. Bop Design Business Principal, Jeremy Durant, discusses how web marketing tools such as Twitter can help increase brand awareness for small business. "Marketing was previously a monologue with a company repeating brand messaging over and over through traditional channels such as television, print and radio until it stuck in the customer's mind. With the rise of the web, marketing is now more of a dialogue with businesses continuously conversing with their customers. Twitter allows both businesses and customers to find exactly what they're looking for. It's made it easier than ever before for companies to connect - and connect frequently - with customers who are interested in buying."
The guide includes basic information such as the definitions of tweets, hash tags, follow, followers, direct message, retweet and mention. Bop Design chooses to highlight the best Twitter practices for both B2C and B2B companies.
1. Show Personality – The biggest part of a small business' brand is typically the personalities of the firm's owners. As with blogging, don't be afraid to let your personality shine through. Durant adds, "This is not marketing copy and if the conversation seems too slick, people will turn off. Too many people make the mistake of communicating in a generic tone. Remember that people are buying into you as a person as much as your company."
2. Follow & Learn – People who listen and learn on Twitter are those who are usually the most successful. Follow businesses that are similar to yours and see what they're doing. Durant recommends, "A firm's goal should not be to just build an audience but become audience members of potential strategic partners. Observe what's working and what isn't. Over time, your goals will be developed largely in part by the behaviors of your audience and the firms you follow."
3. Give them something more – Twitter can be used to convey information about a company that might not be able to be found elsewhere. "It can be a video showing a product being made. Perhaps it's a promotion or special offer. It could even be an article teaching someone how to do something. Don't be too guarded with your expertise. Give 25% of it away for free." Bop Design recommends adding value to tweets by serving as a legitimate resource for information to customers. That's what will keep them coming back.
4. Be responsive – Don't set up the company's Twitter accounts and walk away. When people have something to say to you, respond. As stated before, Twitter is all about the conversation. Especially if the tweet is something that might be more critical in nature, being able to address it up front and publicly says a lot about how you handle issues. Durant continues, "Always be prepared to engage others. Your responsiveness is essential to strong branding."
5. Tweet daily – Bop Design is constantly asked by clients about the frequency of tweets. They recommend daily tweets. "The best part about Twitter is that it doesn't take a lot of effort to stay active. 420 key strokes a day can give you a tweet in the morning, afternoon and evening." It's up to each business how much time and resources are dedicated to Twitter daily, but being there every day – especially in the early going – is important. Stay active and stay relevant.
"While many experts advise to be careful when experimenting with Twitter, especially for business social media marketing, it shouldn't stop you from jumping into the fray. Set up a personal account and explore on a dry-run before setting up an account for your business," Durant suggests. "The disciplined use of Twitter will help a business drive interaction and engage their users."
About Bop Design, San Diego and New Jersey Web Design
Bop Design is a boutique marketing communications firm headquartered in San Diego with offices also in New Jersey. We express a business' values through web design, branding, advertising and print design. The marketing agency also helps attract a firm's ideal customer through search engine optimization and search engine marketing. Bop Design's focus is on small businesses that want an external team of marketing specialists to help give their brand an edge in the marketplace.