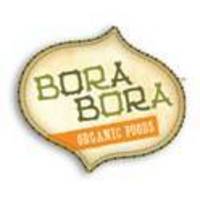 Denver, CO (Vocus) December 5, 2009
Bora Bora, Ltd., a new organic foods company focused on pure, honest, healthy nourishment, today announced the launch of its new consumer website. The new site is a fun, interactive and educational online environment inspired by the philosophy, lifestyle and foods of the remote and exotic island of Bora Bora – one of the purest places on Earth.
Bora Bora Bars are certified organic, all natural, gluten-free, non-GMO, kosher, have low-glycemic properties, and do not contain preservatives, artificial sweeteners, colors or flavors – many of the bars are also vegan. Along with featuring the ingredients and these benefits of Bora Bora bars, the site includes a blog that has become a centerpiece of activity and inspiration for 'Living as Pure as The Place.'
The content of the Bora Bora blog is structured around three main areas that are important to the brand and to healthy living, entitled: Our Beliefs, Our Foods and Our Lives. Visitors can choose between these topics by clicking one of the three icons at the top of the page. The Bora Bora blog will be lively and up-to-date with new content, including product updates as well as the latest advice on how to live the Bora Bora way.
About Bora Bora Foods: With tastes inspired by the remote island of Bora Bora in Tahiti, Bora Bora is a food company committed to healthy living, nourishment and the planet. Of course, our promise is immediately evident in the organic bars we make, but we believe healthy food should be enjoyed alongside a health environment. So we're also committed to initiatives that support sustainable farming practices, renewable energy resources and minimize our waste. For more details, visit http://www.boraborafoods.com.
# # #