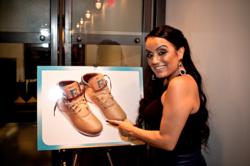 "The sneaker represets strong, passionate, and admirable women that take charge of their lives and destiny," said Amelia.
New York, NY (PRWEB) October 17, 2012
Media personality Simone Amelia, best known as Boss Lady, celebrated the launch of her limited edition Boss Lady x Reebok sneaker yesterday, October 16, in a star-studded event at New York City's premier recording studio, Engine Room Audio.
The sneaker is a part of an empowering campaign led by Reebok to create limited edition sneakers designed by women who embody the Reebok classic spirit. Simone is one of five women to design a sneaker. The sneaker, named after Boss Lady and inspired by her favorite cartoon heroine, Princess Jasmine, represents "strong, passionate, and admirable women that take charge of their lives and destiny," said Amelia.
The star-studded affair, which was sponsored by Reebok, Monster Products, and Vibe Vixen, included attendance by rapper Maino and Three 6 Mafia member, DJ Paul, to name a few. Guests enjoyed exclusive giveaways, including the Boss Lady limited edition sneakers, Monster Products' latest Inspiration headphones with a unique headband designed exclusively for the Boss Lady x Reebok sneaker, and magazine and beauty items from Vibe Vixen. Attendees also enjoyed an open bar provided by RedBull.
Passionate about working with city youth and serving as a mentor to children and kids in need, Amelia also presented a $10,000 check to New York: Youth at Risk, a non-profit organization committed to transforming the chaotic lives of young people through persistent and compassionate mentoring. "You are an inspiration to us all," said Claudette C. Faison, Youth at Risk founder. "We are honored and blessed to have you as a part of our organization serving our communities and investing time in the future leaders of our country."
"Not only was it a dream come true to spend the night celebrating my very own Reebok Classics sneaker with a room full of people I love and admire, but I was also able to assist in delivering a $10,000 donation from the brand to a non-profit organization near and dear to my heart, Youth at Risk. Life is good!" added Amelia.
For additional information about Boss Lady and the Boss Lady x Reebok sneaker, please visit http://www.BossLady.tv
About:
Simone Amelia, best known as Boss Lady, is a radio host on Sirius XM's "Invasion Radio" on Hip-Hop Nation. She is also the lifestyle manager for DrJays.com. As a media personality, Simone has interviewed major stars such as Jennifer Lopez, Beyonce, Diddy, Rick Ross, 50 Cent, and more! Simone has appeared on Fuse, MTV, and VH1, among other outlets, as a music and fashion commentator. In addition to her media ventures, Simone's passion is working with young women via her growing "Team Boss Lady" empowerment movement, a longstanding role with the Women in Entertainment Empowerment Network [WEEN], as well as serving as a mentor for Youth At Risk, where she was awarded the 2011 Mentor of the Year
###