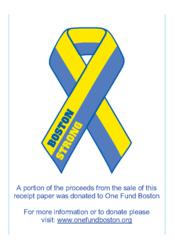 The events of April 15th have affected us personally and we wanted to find a way to support everyone touched by this tragedy
Danvers, MA (PRWEB) May 31, 2013
POS Supply Solutions (POS Supply) is a Boston based company with customers, friends and family affected by the events of the April 15, 2013 bombings during the Boston Marathon. As a way to show our support and to raise funds for One Fund Boston, POS Supply announced today the availability of their new Boston Strong Thermal Roll Paper.
"The events of April 15th have affected us personally and we wanted to find a way to support everyone touched by this tragedy." said POS Supply's President, Stephen Enfield. "Being a paper company we thought what better than to have a custom thermal paper roll created."
The Boston Strong Thermal Roll Paper has been created in the popular 3 1/8" x 220' size thermal paper roll. The BPA Free thermal roll paper is made with Appvion Alpha 400-2.3 thermal paper and comes packaged 50 rolls per case. It is the most common size used among restaurants and retail establishments for their point of sale system printers. Every case sold will have a portion of the proceeds donated to One Fund Boston, and can be ordered by calling 888-431-5800 or visiting us online at http://www.possupply.com/BOSTON-STRONG-Thermal-Roll-Paper.
About POS Supply Solutions
POS Supply Solutions provides point of sale and transaction supply solutions. We serve a full spectrum of industries ranging from hospitality, retail, financial, taxi, medical, wireless and other business transaction applications. Established in 1999, POS Supply Solutions' corporate facility is located in Danvers, MA with distribution warehouses strategically located across the United States. Over the past 13 years, POS Supply Solutions has worked with thousands of companies to ensure they receive the point of sale supplies needed for successful and efficient business operations. POS Supply Solutions was proudly named to the Inc. 500|5000 list of fastest growing companies of 2011.
Contact: Stephen Enfield
President
POS Supply Solutions
(978) 406-4230
senfield(at)possupply(dot)com
http://www.possupply.com