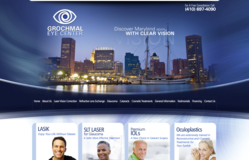 Baltimore, MD (PRWEB) February 02, 2012
At his Baltimore cataract and LASIK surgery practice in Baltimore, Dr. Jay C. Grochmal has announced the beginning of a special offer on BOTOX ® Cosmetic for patients looking to boost their appearance before Valentine's Day. From now until the upcoming holiday on February 14, the Grochmal Eye Center will be offering BOTOX ® Cosmetic at $9.75 per unit. Dr. Grochmal and his practice provide laser vision correction procedures such as LASIK in Maryland, as well as cosmetic enhancements including BOTOX ® injections, Juvederm®, and eyelid surgery.
Dr. Grochmal says cosmetic procedures such as the non-invasive BOTOX ® Cosmetic and surgical procedures like eyelid surgery can offer patients an aesthetic addition to their LASIK or laser vision correction surgery in order to provide a more comprehensive and noticeable enhancement to their new, clearer vision. Dermal injections like Juvederm® and BOTOX ® Cosmetic are designed to tighten loose skin and treat wrinkles and facial lines. He says with reduced pricing on BOTOX ® Cosmetic and his variety of aesthetic procedures, patients now have the opportunity to improve self confidence and tighten the skin under their eyes for a completely refreshed outlook on life.
For patients interested in taking advantage of the Grochmal Eye Center's BOTOX ® Cosmetic special for Valentine's Day, Dr. Grochmal says to contact his practice for more information. He also adds that consulting with an experienced and qualified practice is essential for achieving safe and effective treatment.
About Jay C. Grochmal, MD
Dr. Jay Grochmal received his medical degree from the University of Maryland, after which he completed a rotating internship at the U.S. Public Health Hospital in Baltimore. During his residency, he achieved the rank of Chief Resident at the Greater Baltimore Medical Center's Department of Ophthalmology. Dr. Grochmal is on staff with the Greater Baltimore Medical Center and St. Agnes Hospital. He has participated in several medical mission trips to third world countries to provide his expertise in eye care, including Pakistan, Jamaica, and the Bahamas. Dr. Grochmal is also a member of the American Academy of Ophthalmology.
Located at 405 Frederick Road, Suite 102 in Baltimore, MD, the Grochmal Eye Center can be reached at (410) 697-4090. It can also be contacted online via the website grochmaleye.com or facebook.com/grochmaleye.
###