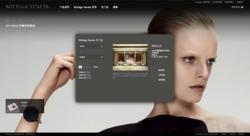 (PRWEB) December 13, 2011
Bottega Veneta is proud to announce the launch of bottegaveneta.cn, a website wholly dedicated to showcasing the Bottega Veneta brand to and for the Chinese customer. The Chinese-language website is designed to immerse the customer in the unsurpassed luxury and visual refinement for which the brand is known while offering a host of features designed exclusively for the Chinese market. In overall design, the site reflects the exacting standards of craftsmanship and functionality that Creative Director Tomas Maier brings to every Bottega Veneta product. In execution, it provides the customer with an experience that is engaging, sophisticated, and luxurious, an effect that parallels the experience of visiting a Bottega Veneta store.
"While Bottega Veneta has received a very positive response in China, our aim to engage as fully as possible, in as many ways as possible, with our current and future customers, is the same for China as it is everywhere," says Marco Bizzarri, President and CEO of Bottega Veneta. "As the brand becomes more visible, consumers' understanding and appreciation toward the brand also grows. The launch of bottegaveneta.cn is the realization of an important goal, in that we are now able to engage with the Chinese consumer in a new and direct way, sharing our story and our products in an environment that reflects Bottega Veneta's brand values. Our intention in developing the site was not just to offer information about the brand in Chinese but to build a complete environment that welcomes and engages the luxury customer in China. We look forward to increasing awareness of Bottega Veneta across all of China, and to interacting with our Chinese customers in ways that inspire them to shop with us."
Upon entering the site, the first thing a customer notices is the refined sophistication of the environment and the extraordinary beauty of the products. Clean, elegant layouts offer vivid, full-screen views of the merchandise. Bottega Veneta's catalog, a beautifully designed expression of the collection each season, comes to life with a host of interactive features, including fashion show runway images with video capability. A customer can browse by product category and by curated theme, as he or she might in a store. Exclusive online content leads the viewer deeper into the world of the brand, as in a series of videos about the making of Bottega Veneta products entitled "Hand of the Artisan." Bottega Veneta's acclaimed "The Art of Collaboration" videos, chronicling Tomas Maier's work with prestigious art photographers who create the brands advertising campaigns each season, is also available. Videos, photos, and text stories frame each product in ways that allow the customer to explore it in multiple dimensions in one place.
Embedded within bottegaveneta.cn are tools designed to enhance the online experience for the Chinese customer. Viewers will be able to share images and video to Sina Mini Blog or via email. A wishlist function on the site makes it easy to save favorite items, and that wishlist can be shared with friends and family via Sina Mini Blog or email. When the viewer wants to shop, a store locator function helps find the store that is most convenient in terms of their proximity, additionally offering the option to email the store directly, further enhancing the experience and relationship between customers and their Bottega Veneta customer service representatives.
"I'm excited and proud to be launching the Bottega Veneta China website," says Bottega Veneta Creative Director Tomas Maier. "The site reflects our commitment to and respect for our Chinese customers, and furthers our goal of showcasing the brand to any and all who wish to learn more about Bottega Veneta. We have a wonderful relationship with our customers in China, and this new website allows us to further engage with them in an online environment that is a true reflection of the brand."
About Bottega Veneta
Discretion, quality, and craftsmanship — Bottega Veneta has created a new standard of luxury since its founding in Vicenza in 1966. Steeped in the traditions of Italy's master leather craftsmen and long celebrated for its extraordinary leather goods, Bottega Veneta has recently emerged as one of the world's premier luxury brands. The company's famous motto, "When your own initials are enough," expresses a philosophy of individuality and confidence that now applies to a range of products including women's and men's ready-to-wear, fine jewelry, furniture, and more.
While Bottega Veneta continues to grow, the qualities that define it are unchanging: outstanding craftsmanship, innovative design, contemporary functionality, and the highest quality materials. Also constant is Bottega Veneta's commitment to its ateliers, where artisans of remarkable skill combine traditional mastery with breathtaking innovation. Indeed, there is an unusual and inspired collaboration between artisan and designer at the heart of Bottega Veneta's approach to luxury, symbolized by the house's signature intrecciato woven leather. In the summer of 2006, in recognition of the importance of artisanal craftsmanship and the fragility of this traditional way of life, Bottega Veneta opened a school to train and support future generations of leather artisans.
The most recent chapter in Bottega Veneta's history began in February 2001, when the company was acquired by PPR Luxury Group, formerly known as Gucci Group. Creative Director Tomas Maier came on board in June of that year and presented his first collection, Spring-Summer 2002, to immediate critical acclaim. From the start, the house's sensibility was refined, sensuous, and intensely personal, designed for a customer who is sophisticated and self-assured. In the years since, Bottega Veneta has introduced exciting additions to the collection, including fine jewelry, a watch, furniture, and home accessories, while continuing to offer an exclusive and coveted assortment of ready-to-wear, handbags, shoes, small leather goods, eyewear, luggage, and gifts.
Distribution of Bottega Veneta products is global, encompassing Europe, Australia, Asia, North and South America, where wholesale distribution in select specialty and department stores is complemented by a growing number of Bottega Veneta-owned boutiques. These boutiques, designed by Tomas Maier and meticulously constructed to Bottega Veneta's exacting standards, allow the customer to shop in complete luxury, privacy, and comfort. They are, like the products they showcase, a reflection of Bottega Veneta's exceptional heritage and superlative quality.
# # #