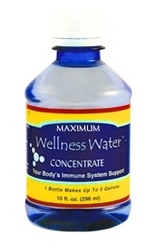 We are proud to launch Maximum Wellness Water Internationally as the flagship product of the Village Natural Products line
Los Angeles, CA (PRWEB) December 20, 2008
Village Resource Solutions, LLC is proud to announce the worldwide market introduction of its inaugural bottled water line of products named Maximum Wellness Water. Village Resource Solutions has been active in developing and researching unique earth based commodities and developing them into viable products for domestic and international distribution since 2004. The company also prospects and markets natural consumer products known for their rare and unique wellness properties.
Maximum Wellness Water is the result of a unique blend of two emerging areas of their respective industries. The formula combines the best of the fast growing business sectors of Ion-Silver Technology and Enhanced Bottle Water Formulas, both multi-million dollar growth areas. Throughout history, Silver has been known as a powerful aid in fighting diseases and preventing infections.
Maximum Wellness Water is a proprietary breakthrough concentrate formula that when mixed with pure water, is designed to assist the body's immune system to repel and fortify against harmful bacteria using a process as simple as drinking water on a daily basis. It has been stated (through clinical trials) that as a natural dietary supplement, Maximum Wellness Water can be ingested as safely as any vitamin through the intestinal wall. Based on clinical trials, and upon contact with disease causing micro-organisms at the cellular level, Maximum Wellness Water implodes and rids the body of harmful Viruses, Parasites, Fungi, and kills Bad Bacteria, which are then naturally eliminated through the body's waste system.
Through its 15 years in research and development and clinical trials at leading worldwide institutions, the process employed to develop the Maximum Wellness Water is a Covalent Bonding process. Maximum Wellness Water formula is not Colloidal Silver which uses a development process consisting of larger silver particles that may accumulate in the body. Maximum Wellness Water uses a unique proprietary fusion process which permanently bonds ion nano-paticulates of silver with a multitude of oxygen molecules suspended in water. These Ion nano-particulates are so incredibly small that they can generally penetrate the cell membrane complementing natures' ongoing function of the body's cells in a manner that will not accumulate in the body. As an added value, one (1) 10 ounce bottle of Maximum Wellness Water makes up to five (5) gallons of mixed water, depending on mixture usage.
According to Village Resource Solutions Scientific Advisor Dr. Carol Sing, "Our product is designed to help our customers to generally feel and perform better by boosting their immune systems and energy levels." "Our clinical trial results have concluded that by ridding the body of harmful bacteria and viruses, Maximum Wellness Water assists the body in a variety of remarkable and beneficial ways", Sing added.
Village Resource Solutions, LLC is headquartered in Cerritos, California. The Director and Managing Member of the company is Harold Freeman, who has served in the International Products Marketing and Management market sectors throughout his career. Freeman states that "We are proud to launch Maximum Wellness Water Internationally as the flagship product of the Village Natural Products line"……. "It is an honor to market a high quality product that can offer our customers health solutions that boost their immune systems, as well as refresh and rejuvenate their lifestyles", added Freeman.
According to Freeman, Village Resource Solutions is interested in providing income generating opportunities for Independent Distributors, Online Retail Affiliates, and Affinity Organizations worldwide. As a value added service to the global communities in which Village Resource Solutions serves, the company is launching a number of humanitarian projects for a better world in the areas of Health Education and related medical endeavors.
You can order the product, explore opportunities, or request additional information by visiting the Maximum Wellness Water website at; http://www.water4wellness.com, or by contacting Village Resource Solutions office at: (562) 467-6968, or you may e-mail them at info@water4wellness.com
###