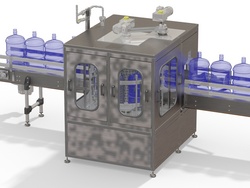 Jackson, MI (Vocus) July 22, 2010
CapSnap Equipment, the Jackson, MI based manufacturer of customizable HOD water bottling equipment has announced the development of a new external bottle pre-washer. This machine is designed to wash the external surfaces of reusable 3 and 5 gallon plastic containers prior to the rest of the washing and bottling process.
The external bottle pre-washer is a rotary-style machine with easily replaceable brushes. It was created for bottlers who deal with especially dirty bottles, such as those returned from foundries and factories, or bottlers in dusty parts of the world. These bottlers are currently forced to manually clean the outside of their bottles in order to make them usable. The alternative is to throw the bottles away, making their bottling process more expensive and damaging to the environment. The external bottle pre-washer now allows them to reduce this problem by providing a method to remove the dust, dirt and grime from these bottles as well as adding life to the wash bath of the main bottle washer by pre-washing bottles off-line.
The washer first uses a screw drive and star wheel assembly to load bottles into the machine. Neck, shoulder, side and bottom brushes then remove dirt and other debris from the outside of the bottles before they continue on to the next step in the bottling process. The washer is constructed of durable stainless steel and features dual variable speed drives that allow bottlers to customize the unit to fit the speed of their bottling line. This is done by adjusting both the brush speed and the main carousel speed, changing the overall throughput capacity. The bottler also has a number of other options to choose from, such as detergent dosing, filtration, and heaters that can be used to further increase the effectiveness of the machine.
Putting cleaner bottles into the main bottle washer heightens the effectiveness of the washing process. Cleaner bottles, in turn, lead to less environmental waste and less costs associated with making or purchasing replacement bottles. Having cleaner bottles also extends the life of the water used in the washing process, saving more money. Because of these various savings, bottlers can quickly offset the cost of purchasing the pre-washer.
The external bottle pre-washer is designed so that it can be integrated into existing bottling lines with minimal effort. The machine can be installed on an existing line or placed off-line in a separate cleaning process. This ease of installation, combined with its potential to save large amounts of money and effort, makes the machine an attractive option for bottlers who struggle to keep the outside surfaces of their bottles clean.
For more information on CapSnap Equipment and the external bottle pre-washer, visit http://www.capsnapequipment.com/ or call 1-517-787-3481.
###