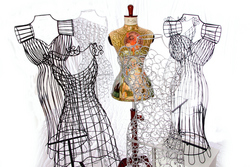 We saw the trend toward wrought iron decor and coupled it with the ever-intriquing female form to create our exclusive specialty display mannequins. We are also an authorized sales agent for IRENA S. TYL MANNEQUINS.
Anderson, IN (PRWEB) August 11, 2009
Searching out eclectic displays for the store or boutique shop has led AntiqueKitchen.com around the world to Poland and China and back again. The trend toward the wrought iron look in home decor is still dominant among store display, interior designers and homemakers alike. This coupled with the ever-present love for the female form creates a natural coupling in iron mannequins and dress forms..
These lifesize offerings are available in two major formats, wire and canvas. The Wire Mannequins are exclusive designs of AntiqueKitchen by Terese James of Marta Mikey LLC, an international company based in Australia. The hand painted art of Irena S. Tyl is the canvas format for which AntiqueKitchen is an authorized agent.
The wire mannequins are classic decorator torsos on sturdy stands with a contemporary flair made of heavy gauge iron wire mesh a la wrought iron, finished in silver and black, though they are conducive to painting to blend with any decor. These exotic pieces work well with a wide range of interior design styles from cutting edge contemporary to fluid traditional lines. Grandmothers and moms have made spectacular surprises for the fashion conscious teenager's sixteenth birthday. Event planners have used a line of them as a grand entrance for a soiree, some have dressed them for designer fashion auctions. Even in the garden they can serve as a trellis for climbing vines. The uses are only as limited as your imagination.
The Tyl Mannequins are truly oil paintings, art in fact, but rather than being on flat canvas, this art is on the canvas dress form of a shapely lady as form follows function. The mannequins are made in accordance with an original 19th century formula, then hand-painted on the cloth using acrylic colors. Each piece is covered with a finish that enables the practical usage of the mannequin. The artistic compositions by Irena S. Tyl are inspired by various famous and admired painters such as Lautrec, Picasso, Monet, Renoir, Mucha, Klimt, Salvador Dali and many others. The mannequins are often created specifically for clients as special orders. Each figure is unique and inimitable.
Irena S. Tyl is an actively working actress. For many years she has been starring in Olga Lipinska Comedy Theatre on TVP1. Earlier she acted in Komedia Theatre in Warsaw as well as in STU Theatre in Cracow. She is also a laureate of the Polish Song Festival in Opole and a winner of the Dramatic Song Festival in Wroclaw. Irena S. Tyl has dealt with artistic handicraft for several years now and becomes increasingly successful in this area. Since 2004, Irena S. Tyl has exhibited her works at the Fairs and Exhibitions in Paris, Milan, Frankfurt, Chicago, Birmingham, Hong Kong, Warsaw and many other places. This novel art form has generated great interest at all of these exhibitions. Canvas Mannequins painted by Irena S. Tyl received the certificate of the Foundation of National Artistic and Ethnographic Commission "CEPELIA" - Polish Art and Craft, certificate no.: 0418/2004. Symbol PKWiU.
These are suitable for upscale home decor, store or boutique display, restaurant or art gallery attraction; they can be used as a valet for draping clothing or for sheer stunning artistic enjoyment. Many designs are available or one can be custom designed according to your artistic preferences.
Dressmaker forms have been documented from as early as 1300's BC since they were found in Tutankhamen's tomb. With that said, one could infer that the dress form has probably existed since servants existed. Once someone had the wealth or position to have one's own seamstress or tailor, the need for the form existed if they were going to supply one with clothing. This would save the King or Queen the embarrassment and effort required for repeat fittings. This brings to mind Hans Christian Andersen's tale of The Emperor's New Clothes. Through the ages, fashion has been of import, as we see in Bigelow's FASHION IN HISTORY; no matter the weather or position, one needed clothing which then led to status of all varieties.
The creation of the full size mannequin seems to have evolved in France since the middle ages. They have been made from many things, including wood, wire, canvas, paper mache, wicker, plaster, fiberglass and plastic. Most often we think of the female shape of vintage mannequins as there is something about the contour of a lady which draws a second look.
So it was in the Victorian period, that store windows began to display their clothing on such models. These came in many shapes and sizes until the famous Lester Gaba designed and modeled from soap, his Gaba Girls, circa 1940s to 1950s. He was also well known for his column in Women's Wear Daily to which he contributed from 1941 to 1967 and for award winning contribution to the American fashion industry.
It wasn't until more recently the mannequin in various forms began to be used in home decor and boutiques. So it is that AntiqueKitchen.com LLC , ordered the design and production of these decorative mannequins.
CJ Gray, Proprietor of AntiqueKitchen.com says, "We saw the trend toward wrought iron decor and coupled it with the ever-intriquing female form to create our exclusive specialty display mannequins. We are also an authorized sales agent for IRENA S. TYL MANNEQUINS."
AntiqueKitchen.com specializes in prompt personal service, shipping daily; the mannequins are in stock and ready to ship.
###