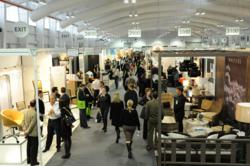 Year two proved to be even bigger and better, which put BDNY on everyone's 2011 calender.
White Plains, NY (PRWEB) January 04, 2012
Co-located with the International Hotel, Motel + Restaurant Show® (IHMRS), the sold-out exhibit hall of more than 200 carefully edited interior product manufacturers presented the latest in furniture, lighting, wall coverings, fabric, seating, accessories, artwork, carpet and flooring, materials, bath and spa. In addition, BDNY featured seminars, special exhibits by Stacy Garcia, bluarch and Krause + Sawyer, and a sold-out Kickoff Party at Yotel New York.
"If you look around this venue, it's a limited space. This gives BDNY the opportunity to show only the best in class," said Mitch Parker, partner from the purchasing firm, Parker Company. "It's not a mass market of products, so I don't have to spend two or three days wandering a show floor to find what I need. It's compact, but with enough opportunity to see everything."
"This show is more design oriented than other hospitality trade shows, with exhibitors bringing only their best products," said Adam Kubryk, director of sales & marketing for furnishing supplier Global Allies. "It's a higher caliber vendor, and therefore a happier attendee because they're seeing new and exciting things here."
"This show has a very discerning audience," said Stacy Garcia, CEO & Founder of Stacy Garcia, Inc. "We're talking about a group of people who are educated, who know what it means to have a design aesthetic, who know what good design is, where the influences come from, and who have art history and architecture as their backgrounds. These are the movers and shakers of the industry."
Among the highlights of BDNY was the Trend Walk, a series of design installations curated by Garcia, an internationally renowned designer and forecaster. Located in the connecting corridor between BDNY and IHMRS, the Trend Walk featured four of eight design trends that Garcia predicts will permeate hospitality in the future, interpreted by leading design firms Dovetail Design, A/I Design Lab, and J/Brice Design International.
"Year two proved to be even bigger and better than our 2010 debut, which put BDNY on everyone's 2011 calendar," said Michael Schneider, publisher of hospitality brands for ST Media Group. "Growth in both exhibitors and attendees – coupled with engaging seminars, exciting events and unique displays such as the Trend Walk – made this show the hospitality design event of the year."
BDNY is a joint venture between the American Hotel & Lodging Association, the Hotel Association of New York City, Inc., New York State Hospitality & Tourism Association and ST Media Group, and is managed by GLM.
The 3rd annual BDNY will run Sunday, November 11, and Monday, November 12, 2012, in Javits Center North Hall. The 97th annual IHMRS will run Saturday, November 10, through Tuesday, November 13, 2012, at the Javits Center. Following a full day of conference and networking activities on Saturday, November 10, the IHMRS will feature three full days of exhibits from Sunday, November 11, through Tuesday, November 13. Collectively, BDNY and IHMRS present some 700 hospitality industry suppliers and attract 25,000 trade attendees.
For BDNY exhibitor information, contact Publisher Michael Schneider, at 513-263-9379 or michael.schneider(at)stmediagroup(dot)com; or GLM Sales Manager Alex Cabat, at 914-421-3372 or alex(at)boutiquedesignnewyork(dot)com. Additional information is available online at BDNY.com.
# # #