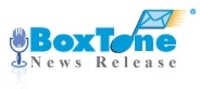 Best Practices for Hardening your Agency's BlackBerry Wireless Platform.
Columbia, Maryland, USA and Toronto, Ontario, Canada (PRWEB) March 24, 2009
BoxTone(R), the expert in mobile user management, and Wallace Wireless, the leader in providing BlackBerry smartphone applications for business continuity and business operations, today announced a partnership aimed at helping public sector, public safety and health care organizations harden and extend the capabilities of their BlackBerry platforms.
The partnership unites two best-in-class software vendors with a deep client base of U.S. and Canadian federal, state and provincial and local governmental agencies; the military; and large health care institutions. Joint customers will be the big beneficiaries, trusting the BoxTone solution to manage and monitor the BlackBerry platform and the Wallace Wireless solution to ensure that critical messages and data are delivered efficiently.
"Mobile government, public safety and health care workers can't afford BlackBerry service disruptions; at times lives are at stake," said Alan Snyder, CEO, BoxTone. "BoxTone software hardens the platform, preventing and eliminating issues before mobile users are affected, or containing and minimizing issues when they're beyond an IT staff's control. By partnering with Wallace Wireless, an industry leader in mobile continuity of operations (COOP) solutions, our mutual customers can be even more confident that critical information is delivered to the right people at the right time, all the time."
Said Rob Moffat, President, Wallace Wireless, "Mobile users should appreciate the importance of proactively monitoring and managing their BlackBerry platform, and by implementing the BoxTone and Wallace Wireless solutions they can ensure the continuity of operations in the event of a crisis or service interruption and allow the delivery of mission-critical communication and data to continue."
BoxTone software modules are deployed at more than 190 organizations globally to manage, monitor and support their BlackBerry platforms and smartphone users. At the software's core lies SmartMP(TM), a patented technology that uses high-volume data collectors, analyzers and mobile pattern-specific rules engines to instrument and measure end-to-end the actual performance of all BlackBerry smartphone users 24x7.
Deployable in hours, BoxTone software enables IT support staff to deliver highly reliable mobility service at the lowest cost. Benefits to organizations of all sizes include the ability to proactively monitor performance and end-to-end service quality; reduce costly incidents and service desk calls by 30%-40%; cut mobile incident mean time to repair (MTTR) by 70-80%; reduce service desk to IT escalations by 70-80%; and recover 3-8% in costs from under-utilized devices. Internal BoxTone customer surveys routinely return high satisfaction and renewal rates at or near 98 percent.
Wallace Wireless provides workforces within large organizations, government or otherwise with the ability to communicate, share critical information and manage resources from anywhere, at any time utilizing the robust and highly secure BlackBerry platform. The Wallace Information Communicator (WIC) enables mobile workers and first responders to make informed decisions in the event of unforeseen interruptions or network outages. WIC Pager from Wallace Wireless also supports healthcare and other organizations who require a premium alerting solution for the BlackBerry, or need to replace aging pager solutions.
BlackBerry support professionals at government, public safety and health care organizations are encouraged to attend the Federal Computer Week-sponsored recorded Webinar: "Best Practices for Hardening your Agency's BlackBerry Wireless Platform." Featuring Research In Motion, BoxTone and Wallace Wireless, this 45-minute interactive discussion focuses on how the public sector is meeting the needs of their mobile government professionals for superior security, reliability and productivity.
BoxTone and Wallace Wireless are also both pleased to sponsor WES 2009, May 5-7 in Orlando, where the biggest wireless thinkers will gather to network, meet customers, form new business relationships and be the first to see the very latest in wireless technology. Make plans to stop by the BoxTone and Wallace Wireless booths. Click here to learn more about WES 2009.
About BoxTone
BoxTone software is trusted by more than 190 of the world's leading enterprises and government agencies, including 65 in the Global 2000, to manage, monitor and support their BlackBerry platforms. Built on patented SmartMP(TM) technology and conforming to industry standard ITIL best practices, BoxTone's modular platform and role-specific consoles enable IT and services organizations to proactively improve mobile performance, reduce support costs and accommodate rapid device growth, all while guaranteeing the high quality of service that mobile users demand. Learn more from the expert in mobile user management at http://www.boxtone.com, or call +1 410-910-3344.
About Wallace Wireless
Wallace Wireless is the leader in providing BlackBerry smartphone applications for business continuity and business operations. We offer a comprehensive suite of solutions that solve enterprise mobility issues including contact management, communications, content management and database access. Our easy to install, easy to access suite of wireless applications provide enterprise workforces with relevant and critical information anywhere, any time. The result is increased productivity, informed employees, and in some cases the saving of lives.
Wallace is a preferred BlackBerry alliance partner with offices located in the United States and Canada. Wallace partners with leading technology, carrier, and resellers globally and we ignite the mobile enterprise for the Financial Services, Fortune 500, Healthcare, Professional Services, Public Sector, Public Safety, Telecom, Utilities and Education sectors. To learn more about the Wallace Wireless solutions visit http://www.wallacewireless.com or call +1-866-978-2900.
BoxTone and the BoxTone logo are trademarks of BoxTone, Inc. Wallace Wireless is a trademark of Wallace Wireless. The BlackBerry and RIM families of related marks, images and symbols are the exclusive properties and trademarks of Research In Motion Limited. All other product or company names mentioned are used for identification purposes only and may be trademarks of their respective owners.
###