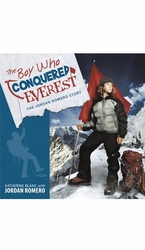 All the work was totally worth it
Big Bear Lake, Calif. (Vocus) November 2, 2010
Motivation, inspiration and determination are the focus of Katherine Blanc's new book, The Boy Who Conquered Everest.
The book chronicles the story of Jordan Romero, who decided when he was nine years old that he wanted to climb the tallest mountain on each of the continents, collectively known as the Seven Summits. Now, at 14, he's scaled six of them – the most recent being Mt. Everest. Blanc, who has followed Jordan's story from the beginning, wants to share it with the world.
She focuses heavily on Jordan's inspirational message, "Find your own Everest." Blanc was determined to share Jordan's story with others so that they too could be motivated to set and reach challenging personal goals. The book even contains inspirational messages and tips on goal-setting from the young adventurer.
The Boy Who Conquered Everest is compiled much like a scrapbook, a style that allows readers to go on a visual journey through Jordan's quest to get to the highest peak in the world. From the pictures of Team Jordan training and prepping base camps to finally standing at the summit of Mt. Everest, readers will feel as though they're part of the special journey.
Blanc also wants readers to understand that hard work can be rewarding in the end – a principle Jordan lives by. "All the work was totally worth it," the teen says regarding his Everest climb. "We had the time of our lives standing there on top…I called home and said, 'Hi, Mom. I'm calling you from the top of the world!'"
To complete the Seven Summits challenge, Team Jordan plans to conquer Antarctica's Mt. Vinson Massif this winter. For more information, visit http://www.jordanromero.com.
About the Author
Katherine Blanc lives in Big Bear Lake, Calif., with her husband Noel, the son of famed Looney Tunes voice-actor Mel Blanc. Her previous books include The Bad Puppy's Guide to Life, The Bad Kitty's Guide to Life, Today, Big Bear Historical Museum Coloring Book, Gold Mountain Girl, No Baths For Betsy, Cliff the Climber and Just One Vote.
###