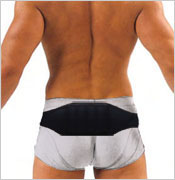 Dr. Allen's therapeutic device is designed to treat a prostate locally and therefore is extremely effective and safe.
London, UK (PRWEB) November 02, 2012
Prostate conventional treatment options are lowering quality of life, so it's time for men to take care in treating prostate enlargement by using Dr. Allen's therapeutic device at home themselves but not foredoom on the problems in the future, agreeing to undergo surgeries and even taking useless medications for years, Fine Treatment reveals. Even a surgery to remove prostate cancer can results in high levels of anxiety among men, which is associated with depression and sexual dissatisfaction, according to Mayo Clinic researchers from the Florida campus.
The American Cancer Society said that more than 2.5 million men in the U.S. who have received a prostate cancer diagnosis have not died from the disease, regardless of the fact that it is life-threatening, states the article Prostate Cancer Surgery Can Result In Lower Quality Of Life published in Medical News Today on 25 Sep 2012.
Alexander Parker, Ph.D., the study's senior author and an associate professor of epidemiology and urology, commented: "The 10-year survival for a man undergoing surgery to remove localized prostate cancer is greater than 95 percent. Given that the majority of men who undergo prostatectomy for prostate cancer will not die from their disease, we are concerned about what life will be life for these patients decades after diagnosis and treatment."
So, sufferers with BPH need to follow natural Thermobalancing therapy that has proven efficacy to enjoy their life free from complications. Please, watch a short video http://www.youtube.com/watch?v=V5xidswhxJM on how a man with a hugely enlarged prostate has shrunk it by wearing Dr. Allen's device. Furthermore, patient feedback page on the Fine Treatment website will disclose more case studies soon.
"Men's experiences on the Proscar, Finasteride Forum" state: "Finasteride has ruined my life. The sex drive has been washed from my brain. Worse than that though are the other side effects, my skin has aged by thirty years." Read about complications after prostate surgeries on Men's-Health forum on Retrograde Ejaculation after Prostate Surgery. For instance, a message posted on 29 December 2011 says, "I was misled by my doctor in 2009. Expected one thing and was incontinent for 2 years after TURP. No warning from the doctor. No preparation. Impotency at times followed a few months after the surgery. No more ejaculation."
"The Thermobalancing therapy is a unique opportunity for a man to improve the prostate condition naturally," says Dr. Allen. "Dr. Allen's therapeutic device is designed to treat a prostate locally and therefore is extremely effective and safe."
About Dr. Simon Allen and Fine Treatment:
Dr. Simon Allen is a highly experienced medical professional. His specialty is in the internal medicine and cardio-vascular field. He has treated a wide range of chronic diseases, including patients after a heart attack, with kidneys problems, including kidney stones disease, prostate and spine conditions, as well as metabolic disorders. Fine Treatment exclusively offers Dr Allen's devices for chronic prostatitis and BPH treatment, coronary heart disease, dissolving kidney stones, as well as lower back pain relief and