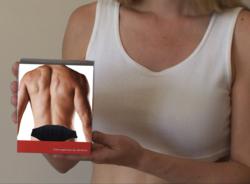 BPH patients need to reconsider their treatment plans in favour of a harmless therapy with Dr. Allen's Device for Prostate Care, which is natural and can improve potency and libido.
London, UK (PRWEB) September 23, 2012
BPH surgeries and prostate removal procedures cause erectile dysfunction afterwards, and while different medicines are sold to help to improve this condition, such as Cialis, an erectile dysfunction drug, which according to Bloomberg News of 21/09/2012 gets an approval in Europe, USA, Canada, Brazil and other countries, their effectiveness is doubtful, so Fine Treatment advocates avoiding the risky procedues in the first instance. Also Acorda Therapeutics, Inc has announced it is conducting research to come up with a medicine that can improve erectile function after cavernous nerve has been damaged - which is a massive undertaking without near future prospects of accomplishment. At the same time Dr. Allen's device can help to terminate prostate enlargement naturally without any of the risks associated with other treatments, highlights Fine Treatment.
The American Urological Association estimates that more than 150,000 men annually in the U.S. have BPH-related surgeries. "One of the most common complications of prostate surgery is erectile dysfunction, caused by inadvertent damage to the cavernous nerve during surgery. There is currently no effective therapy for preventing these complications," states Andrew R. Blight, Ph.D., Acorda Therapeutics' Chief Scientific Officer, in a recent report titled "Preclinical Data on Treatment of Erectile Dysfunction".
The success of erectile dysfunction treatment after a BPH surgery is highly doubtful. "Recovery after any nerve injury is variable. Unfortunately nerves recover less well as we grow older. This is in part due to the ability of the younger nervous system to adapt to loss of normal function in a nerve," highlights the British Society for Surgery of the Hand. When the nerve is cut off, there is nothing that can repair it, so any help promised by a medicine is highly doubtful.
There is no need to treat BPH with surgeries when there is no medical urgency for a surgery. In such cases, the natural Thermobalancing therapy should be favoured. It gradually cleanses the prostate gland by improving the blood circulation inside this organ. Please watch a video: http://www.youtube.com/watch?v=dCFy_jZgCLw.
Moreover, Men's-Health forum on Retrograde Ejaculation after Prostate Surgery shares views of men on conventional treatment options. For instance, a message posted by Raja on 29 December 2011 says, "I was misled by my doctor in 2009. Expected one thing and was incontinent for 2 years after TURP. No warning from the doctor. No preparation. Impotency at times followed a few months after the surgery. No more ejaculation." Another post of 2 October 2011 states, "I'm 44 male, 8 months ago I had Holap operation for BPH and still now I'm living a nightmare. Do not touch your prostate. The annoying symptoms you have now are nothing compared to what you have after surgery."
"It is a sad fact that BPH surgeries frequently cause erectile dysfunction and impotence," says Dr. Allen. "BPH patients need to reconsider their treatment plans in favour of a harmless therapy with Dr. Allen's Device for Prostate Care, which is natural and can improve potency and libido."
Read more at http://www.finetreatment.co.uk/prostatetreatmentbph/prostatitistreatment.html.
About Dr. Simon Allen and Fine Treatment:
Dr. Simon Allen is a highly experienced medical professional. His specialty is in the internal medicine and cardio-vascular field, and he has treated patients after a heart attack, with kidneys problems, including kidney stones disease, prostate and spine conditions. Fine Treatment exclusively offers Dr Allen's devices for chronic prostatitis and BPH, coronary heart disease, dissolving kidney stones, as well as back pain treatment and sciatica relief.