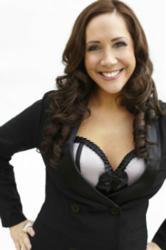 New York City, NY (PRWEB) December 01, 2012
Jene Luciani is no stranger to the fashion scene, being the resident Bra and Style guru consistently in demand. Recently she hosted the annual Intimate Apparel Square Club's H.U.G. Gala to benefit Rusk Rehabilitation Center for Children at NYU, held at the 230 5th Avenue. Frequently making appearances on popular television shows like the Today Show, Access Hollywood, The Wendy Williams Show and Dr. Oz, Jene recently had her televised fashion clips page updated with new segments by Route 72 Systems.
The first clip which was taken from the Wendy Williams show which broadcasted on Black Friday to provide tips for choosing a proper bag for the season. In this segment, Jene goes over investing in a "statement" handbag, paying close attention to function while also beautifully complementing body types. From faux fur bags to satchels, Jene covers them all.
In the second clip, Jene addresses the number one body complaint that women had on Dr. Oz's show which was dealing with sagging breasts. In the segment, Dr. Oz discusses how not wearing the proper bra will contribute to the problem. Jene talks in detail about the architecture of the bra and how the pieces that make up a bra work in unison to fully support the breasts with critical adjustments resulting in major differences for two audience members.
"Jene is very helpful in fashion matters and all the woman in the office love to ask her questions whenever they get the chance, which she always gracefully does", states Mark Ramos, marketing team member of Route 72 Systems. Ramos goes on further to say, "The fashion industry is always changing so we are aware that constantly updating and promoting Jene's website will always give her the edge she needs to be at the forefront."
Route 72 Systems has been in the email data aggregation industry for over 15 years. Having provided critical information for their clients by creating unique tools such as http://emailzipcode.net/ has garnered them well deserved attention. Teaming up with Jene to make waves in the fashion world is another challenge they plan to achieve the same success with.