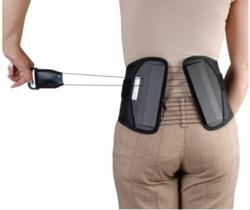 Waterloo, IA (PRWEB) November 28, 2012
Cybertech Medical products featuring their unique pulley system-powered spinal braces can now be found at BraceAbility.com. This unique clasping system makes putting on and adjusting a back brace strain free and simple.
Cybertech specializes in spinal products and has made a name for itself in this sphere with its back brace design that takes innovation and usability to a whole new level. The company's motto, "One Second, One Pull… and Off You Go" is more than a motto; it is a product description.
Each of Cybertech's spinal support products uses the company's patented mechanical advantage pulley system. This system has a number of advantages. One of these is that for every pound of force exerted, the pulleys give the user six pounds of compression pressure. This means a user can easily cinch up with one smooth pull.
Also, the pulley is positioned for easy accessibility so that the wearer does not have to twist and strain to get the brace positioned properly. Thus the pulley system of Cybertech braces allows users to don the brace quickly and comfortably.
Beyond the unique pulley system, Cybertech spinal products are made with a material that is both pliable and strong. So while the abdominal compression of the brace immobilizes the spine to promote healing and ease pain, the user can go about his or her day to day activities. With the appropriate brace, one can even engage in sports.
Cybertech braces also feature a breathable undercoat layer and a low-profile design, so users can comfortably wear these products under regular clothing. A couple of the best selling products featuring this innovative design are the Cybertech SPINE back brace and the Cybertech SPINE sport back brace.
These advantages have helped Cybertech Medical become a leading supplier of orthotic and trauma supplies for hospitals, emergency medical services and the military in the U.S. and elsewhere. These braces are also FDA-approved; one should receive a medical diagnosis before use.
Spinal injuries affect many people. Some of the more common ones that can be treated by the Cybertech braces at BraceAbility include herniated disc, degenerative disc, spondylolisthesis, lower back pain and sacroiliac pain, to name a few.
Learn more about Cybertech spinal brace products and check out their affordable prices at BraceAbility.com.
About BraceAbility
Founded in 2011, BraceAbility.com is an e-commerce website focused on providing the latest and most affordable orthopedic braces, supports, and supplies to the general public.