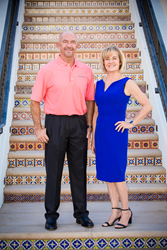 Deanna and I are extremely proud and grateful to be a part of eXp Realty and it's ICON Agent Program.
LA QUINTA, Calif. (PRWEB) November 09, 2018
The eXp Realty ICON Agent Program recognizes agents and teams who achieve certain production goals and represent a good cultural fit for the brokerage. At eXp Realty, core values shape the company's culture, so they look at a number of factors such as how ICON agents make a positive change in our company and their local community.
The eXp Realty ICON Agent program provides each qualified ICON with up to $16,000 in publicly traded eXp World Holdings, Inc. common stock upon the achievement of certain production goals within an agent's anniversary year. The company's cap is presently set at $16,000. Through the program, ICONs effectively can earn up to their entire $16,000 cap amount back in the form of stock.
"Deanna and I are extremely proud and grateful to be a part of eXp Realty and it's ICON Agent Program. eXp Realty ICON Agents from all over the US and Canada exemplify our core values and are an example of the thousands of eXp Realty agents who excel at being productive business leaders and active in their communities," said Schmett.
Brad Schmett Real Estate Group, brokered by eXp Realty of California, Inc. is an exclusive, elite and sophisticated group of real estate consultants raising the bar for service in the Greater Palm Springs Area real estate market.
About eXp Realty
eXp Realty provides 24/7 access to collaborative tools, training, and socialization for real estate brokers and agents through its fully-immersive, virtual campus environment. As a public company subsidiary, eXp Realty uniquely offers real estate professionals within its ranks opportunities to earn company stock for production and contributions to overall company growth.
eXp Realty is one of the fastest growing real estate brokerages in the United States with more than 15,000 agents in all 50 U.S. states, the District of Columbia and three Canadian provinces.