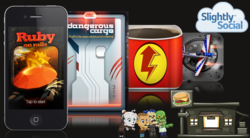 London, ON (PRWEB) December 14, 2012
Slightly Social Inc., a Canadian social game developer and publisher, is pleased to announce that it has signed an agreement with MediaSoft Inc, to act as the marketing arm and exclusive publisher for all MediaSoft games through 2013.
The London, ON based startup has been pivotal in helping companies acquire millions of users, and has achieved some of the highest revenue per user figures in social gaming.
Both companies are staffing up to jointly develop and release up to 100 mobile games across various genres, then focus on the titles that show rapid adoption.
"Our goal is to get 5 games to the Top 10 in 2013. We are incredibly motivated by the development strategies and marketing plan that Slightly Social shared with us this month. Last year was the first time that mobile devices outsold traditional computers - entertainment is going mobile, and with the experience of our new partner, we are positioned to take advantage of this trend and profit from it." says Rayson Wong, Co-Founder of MediaSoft.
Wong is correct with his trend predictions according to Gartner Research Group, who estimates that 1.3 billion mobile phones and tablets will be sold in 2015. Apple's App Store is on target to hit 21 billion downloads in 2012, which is an increase of 74 percent over 2011. All of this indicates a strong demand for mobile games and apps.
"I've been making games since 2008, and have visited and worked with many gaming studios. MediaSoft has one of the most impressive operations that I've seen from a gaming startup. I'm excited to introduce millions of players to MediaSoft's games, and I'm confident that they will become a premiere mobile game studio, not just in Asia but globally." says Brad Mills, Co-Founder of Slight Social.
Expect their first collaborative titles to be hitting the iOS App Store just in time for the 2012 holiday season.
---
Slightly Social, Inc is a London, Ontario based independent game developer and publisher games with a specialty in marketing Facebook and iOS games. The principal founders have launched highly successful social and mobile games that have reached millions of aggregate players.
MediaSoft is a software development house based in Kuala Lampur that specializes in education technology as well as 2D and 3D games and animated films. The company makes strategic alliances with a focus on international business partnerships.