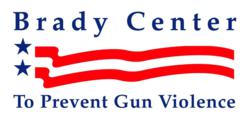 The mission of the Brady organization is to create a safer America for all of us that will lead to the dramatic reduction in gun deaths and injuries that we all seek.
New York, NY (PRWEB) September 27, 2012
The Brady Center to Prevent Gun Violence today announced that men and women whose lives have been forever altered by gun violence, along with well-known celebrities who've filmed a new call-to-action PSA, will play a prominent role in the annual Brady Center New York City Gala on Thursday, Oct. 4.
Coming together under the theme, We Are Better Than This, gun violence victims and family members of those lost to gun violence will join with concerned Americans from all walks of life to honor and support gun violence prevention efforts and leaders at the Brady Center's gala at Cipriani Wall Street.
This event honors the gun violence prevention community's determination to deepen and extend the national conversation on ways to prevent gun violence, in recognition that we are better than a country that loses 30,000 people a year to gun violence.
Giving voice to the national conversation emerging in response to the carnage we witness day after day will be:

Roxanna Green, who lost her 8-year-old daughter Christina-Taylor in the 2011 Tucson shooting that injured Representative Gabrielle Giffords;
Annette Holt, mother of 16-year-old Blair Holt, shot in 2007 on a Chicago city bus on his way to help out at his grandparents' store;
Aurora theater shooting victims Ethan Rodriguez-Torrent (who escaped without physical injury) and his friend Stephen Barton (who was shot in the neck and shoulders), who had stopped in Denver to visit a friend during their cross-country cycling trip;
Brent Gurtek, a hunter from Minnesota, who supports sensible gun laws.
A very special highlight of the evening will be the debut of segments of several We Are Better Than This-themed public service announcements, featuring Mariska Hargity, who plays Det. Olivia Benson on "Law and Order: Special Victims Unit"; Mark Ruffalo, most recently seen as Dr. Bruce Banner, aka The Hulk, in the 2012 film "The Avengers"; Rosanne Cash, winner of the 2010 Americana Music Association Best Album of the Year for "The List" and eldest daughter of country music legend Johnny Cash; Al Paglia, who played FBI agent Jack Malone on "Without a Trace"; Naomi Watts, who played real-life CIA agent Valerie Wilson Plame in "Fair Game"; and Liev Schreiber, Sabretooth in the 2009 "X-Men Origins: Wolverine."
The Harlem Children's Choir will also showcase its talents and share its experiences overcoming the tragedy of gun violence.
Only Credentialed Media – RSVPS a Must!
WHAT:
Annual Brady Center to Prevent Gun Violence Gala
WHEN:
Thursday, October 4, 2012
6:30 P.M. Reception
7:00 P.M. Program
WHERE:
Cipriani Wall Street
55 Wall Street (Between William & Hanover Streets)
New York, New York
The mission of the Brady organization is to create a safer America for all of us that will lead to the dramatic reduction in gun deaths and injuries that we all seek.
Dan Gross is the President of the Brady Campaign and the Brady Center to Prevent Gun Violence.
A photo and more information about Dan Gross is available here. For more insight on gun violence prevention, follow The Brady Blog, Facebook Page and Twitter Account. Brady News Releases are available via RSS.