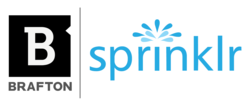 Our live Twitter chat will help marketers understand how metrics can help them bolster their content marketing.
Boston, MA. (PRWEB) March 28, 2013
Brafton will curate its second Twitter chat on Wednesday, April 3, 2013, at 1:30 p.m. EST. The discussion will focus on social media analytics and businesses' leading challenges when it comes to leveraging insights online. Brafton's software partner Sprinklr will co-host the event, with Chris Kieff, Sprinklr's director of business development, joining the conversation. Experts from both companies and other participants will offer insights on what social metrics matter and how to handle social media in real time.
"Social media marketing has reached a tipping point - brands must pay close attention to social chatter and apply their newfound knowledge to strengthen their strategies," said Meagan Parrish, director of social media marketing at Brafton. "Our live Twitter chat will help marketers understand how metrics can help them bolster their content marketing."
The social media evolution has birthed new technologies aimed at helping marketers better understand their customers' needs. The April 3 Twitter #cmQs event aims to generate conversations and insights on how social media analytics can improve internet marketing.
The Brafton-hosted online discussion will educate marketers across verticals and introduce new strategies that have helped both Brafton and its network create dynamic content marketing around social insights. Brafton is extremely excited about its new partnership with Sprinklr, and this Twitter chat will focus on what marketers can learn from social listening and people's unique online behaviors.
"Social media analytics reveal people's core motivations, not their transient wants," Sprinklr's VP of Marketing Jeremy Epstein noted in a recent interview with Brafton. In the April 3 Twitter chat, participants will learn how to glean useful insights from social interactions, and the benefits that come from marketing initiatives that speak to customers' values.
Brafton is North America's premier news and content marketing agency, named Inc.'s 61st fastest-growing U.S. private company. The agency's relentlessly creative writers, designers and video teams work with its results-obsessed SEO and social media consultants to provide engaging and exclusive content for clients' unique audiences and business goals. Custom analytics reporting ensures maximum results. Brafton serves clients across the continent from offices in Boston, Chicago and San Francisco.