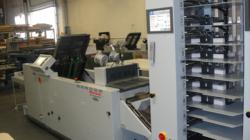 The SPF-200L can make 3,500 booklets per hour, enabling us to double our stitch and folding services.
Braintree, MA (PRWEB) April 24, 2013
Braintree Printing, one of the top digital printing and offset printing companies in the Northeast, can now stitch and fold almost any sized booklet, including landscape brochures and calendars. The Massachusetts-based printer recently added a Horizon Stitch and Folder SPF-200L to its bindery department.
Braintree Printing prides itself on meeting customer requests for any size, style or pagination of stitched books, so when the company found itself struggling to keep up with demand, it wasted no time and invested in new equipment. According to Braintree Printing owner Jim Corliss, "We have been receiving an abundance of orders for landscape and oblong stitched booklets. Styles change in marketing collateral and these large formats are very popular right now."
Previously, Braintree Printing assembled such oversized booklets by hand, using valuable employee time. "We realized we needed another stitcher/folder with better size and shape capabilities for more complex documents," said Corliss. "The SPF-200L can make 3,500 booklets per hour and will enable us to dramatically increase our stitching services," said Corliss, projecting that his bindery will produce twice as many stitched books.
The new bookletmaker was installed alongside Braintree Printing's other stitcher/folder, a Horizon SPF/FC 200A purchased in 2008. Corliss said that machine has produced over 5 million booklets in just five years. Braintree Printing has partnered with the manufacturer, Standard Horizon, on many equipment acquisitions. "We believe that Standard makes the finest finishing equipment available and the service we receive from our distributor A.L. Larson of Wilmington, MA is unsurpassed," said Corliss.
The SPF-200L, which accommodates a variety of paper stocks up to 24 inches, has an easy to use color touchscreen and the capability to store over 200 job settings. The system accepts digitally printed output from Standard's high-speed sheet feeders and meets conventional offset print needs with a collating tower.
About Braintree Printing
Braintree Printing provides offset printing and digital printing for printers and print brokers throughout the Northeast. Owned by Jim Corliss, Jerry Hogan and Jose Tafur, the 30-year-old company specializes in high-end, 4 and 5 color offset printing and digital printing, book printing, and various types of bindery and finishing. With $6.51 million in annual sales, Braintree ranked 18th and was the highest ranking Massachusetts printer on Quick Printing Magazine's 2012 Top 100 List. Braintree Printing operates in a 17,000 square ft plant on Wood Road in Braintree, MA. Business hours are 8:30 am to 6:00 pm, Monday through Friday, with production areas working 24/7 to meet customer demand. For information, call 781-848-5300 or visit http://www.braintreeprinting.com.