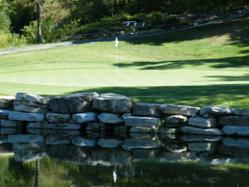 The new order of play will drastically reduce wait times
Branson, MO (PRWEB) March 22, 2013
One of the most popular Branson golf courses, Thousand Hills Golf Course, is going to show golfers a new side of itself as the 2013 begins with a major course layout redesign, improved maintenance equipment, and new paths & changes that will increase golfer satisfaction at this already highly rated course.
Since 1993, thousands of golfers have played this Branson golf course and many come back year after year to play their favorite. Thousand Hills Golf Resort is dedicated to always keeping the golf course fun and enjoyable. This year, the Thousand hills Golf team is making numerous additions to the course to improve on an already great experience. Thousand Hills Golf Resort understands that the accessibility to the golf course is important. Towards this end, they offer senior flags that allow seniors over the age of 55 to drive in the fairways on days that others can't (conditions permitting). The senior flags were implemented in the fall of 2012 with great response. Everyone enjoyed the convenience of driving on the fairways and shorten their steps to get to their ball. In addition to the senior flags, new cart paths were built so that the walk to the greens is much less severe. Previously, hole number 12, a short par three that plays severely downhill began with the cartpath staying up on the hill. Last year construction & landscaping improvements brought the cartpath to the green. Golf official indicate that this is an appreciated improvement that keeping the golfers from having to walk up and down a flight of stairs during their round. With these changes, head golf pro Matt Dillman hopes seniors will be encouraged to get out and play more.
Thousand Hills Golf Resort is also working to re-route the golf course for a better flow and speedier round of golf. Thousand Hills Golf Resort has one of the toughest par 4's in the state, hole number 3. The re-routing of the golf course will put this difficult par 4 later in the round and not directly after the easiest hole on the golf course. In the new layout, hole number three becomes number nine. After playing hole number one and two, golfers will go through the tunnel under Golf View Dr., instead of staying straight they will turn right and head to what was previously hole number six. This change will help reduce the typical round to four hours or less. Mr. Dillman stresses that the same 18 holes people have enjoyed for twenty years are all still there, but the new order of play will drastically reduce wait times. The new layout will be ready to play in March of 2013.
Thousand Hills has also changed some of the maintenance practices to expedite a typical round. Lowering the height of the rough by nearly an inch will aid in the recovery of any balls that should find their way into the rough. According to Pat Shay, Course Superintendent this was accomplished by purchasing specialized equipment to allow the lower height of cut which also has a side benefit of increasing the frequency of cutting.
Mr. Shay also called attention to one final enhancement for the 2013 season. The Golf Course worked diligently in the off-season with Yamaha to trade out the already relatively new golf carts with even newer GPS equipped models. The quality of cart was already a highly praised feature at Thousand Hills that should only be more appreciated with these new models.
Thousand Hills Golf Resort prides itself on being a fun, fair and challenging golf course that golfers of all ages can enjoy. Guests who have played Thousand Hills Golf Resort before are encouraged to come out and enjoy the new re-routing of the course. For golfers who have not played here previously, most past players would encourage them to try this gem that is as beautiful as the Ozarks scenery itself.
Thousand Hills Golf Resort is located just off the famous 76 Country Music Boulevard in the heart of Branson Missouri. This beautiful Robert Cupp design is nestled in the middle of pristine land. Thousand Hills Golf Resort is frequently cited as one of the Branson's most outstanding golf courses. The 18-hole course, equipped with challenging tees and fairways, is played each season by more than 25,000 golfers. Playing to a Par 64, this course has 9 par 3's, 8 par 4's and one par 5. This layout can be demanding off the tee and require precise shots into the undulating greens. Elevation changes and strategic bunkering throughout this beautiful masterpiece adds to not only the aesthetic value but also to the overall experience. Thousand Hills offers a spectacular combination of scenic surroundings and challenging holes.