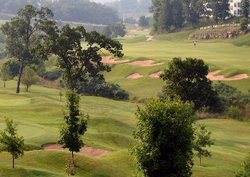 Branson, MO (PRWEB) March 30, 2010
A celebration fifteen years in the making is about to begin at a popular Branson Golf Course. Celebrity guests and incredible deals to celebrate this milestone are sure to attract golfers from all over the country.
On April 1st, 1995 Thousand Hills golf course in Branson was opened by special guest, Andy Williams. Mr. Williams, a national singing star with 18 gold albums and 3 platinum albums, hit the first ever shot on Thousand Hills Golf Course. Ever since then this central-Branson golf course has been one of the most popular courses in Branson. With greens carved out of the Ozarks hills surrounded by luxury Branson Lodging.
###