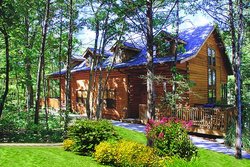 Branson, MO (PRWEB) April 15, 2009
Long considered a convenient driving vacation destination, Branson is now poised to become one of the country's leading fly-in destinations as well with the opening of the new Branson Airport. The city of Branson is already anticipating a large increase in visits thanks to the latest development. As such, all aspects of Branson have been expanding, from a new airport to new, quality Branson hotels, to the music scene. To celebrate the grand opening of the airport, guests are invited to the first annual Branson Air Show, May 8-10, 2009.
The grand opening marks the opening of the first privately financed and operated airport in the United States. Branson annually attracts more than 8 million travelers every year and the Branson Airport is poised to make Branson accessible for even more visitors who otherwise might be too far away. With more flights being added all the time the Branson Airport is positioned to introduce millions to the live shows and family fun that are an area trademark. Branson condos and cabins in Missouri have also increased their offerings to better accommodate out-of-state travelers, and the new Branson airport will add even more convenience and ease to an already highly hospitable city.
The first annual Branson Air Show is the Branson Airport's unveiling to allow community members and visitors alike get their first view of the airport up close. Featuring a wide array of airplane displays and aerial acrobatics, the Air Show is a must-see for aviation buffs and everyone looking for a spectacular show. Some of the world's most popular air teams will be there including the Air Force Thunderbirds, the Army Golden Knights, the Aeroshell Aerobatics Team and many more providing high octane shows high above the ground. For those who want to get a closer look there will also be many static displays on the ground including a B-17, B-25, P-57 Mustang and many more well known planes.
On May 8-10th, the Branson Air Show and the Branson Airport are set to bring in the 2009 summer season with a sonic boom. Visitors are encouraged to secure tickets and Branson lodging today as word is quickly spreading about this unique experience.
###