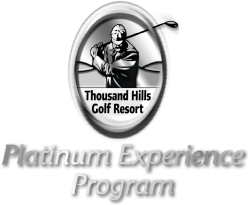 for choosing to stay with us.
Branson, MO (PRWEB) March 27, 2009
As parts of the country brace for the impact that the current economic slump will have on their summer tourism numbers, Branson, Missouri is continuing to focus on its central location, family values and low entertainment cost in order to continue it's track record of outperforming the national average when it comes to visitation numbers. Family-focused values, coupled with recent additions and upgrades to Branson's shopping, lodging and attractions, have Branson poised to successfully ride out the national economic downturn.
Striving to receive the most for their hard earned vacation dollars, many visitors to the Branson area are searching for added value, which can help them stretch their vacation budget during these harsh times. In response to this trend, Thousand Hills Golf Resort is announcing their Branson Platinum Experience Program, which allows guests to enjoy some of Branson's most popular shows, attractions and restaurants at absolutely no charge! The program, which includes over 20 items and is valued at over $300, is available for qualified reservations at the resort, and is designed to let guests at Thousand Hills Resort have a big time without spending big money.
"The Platinum Experience Program is unlike anything else in Branson", states Mitch Walden, marketing manager for Thousand Hills Resort. "While other businesses are offering buy one get one coupons, or making people take sales tours in exchange for tickets, the Platinum Experience Program offers these items to guests of Thousand Hills Resort at absolutely no charge, as our way of saying "thank you" for choosing to stay with us." Walden says that the program, which is available for qualified reservations starting April 1st, and runs through the end of 2009, is generating an amazing response, as guests look forward to having the "Platinum Experience" in Branson.
For more information on booking reservations at Thousand Hills Golf Resort, and receiving the Platinum Experience Program, call 1-800-864-4145. Thousand Hills offers golf condo, lake condo and log cabin rentals that range in size from suites up to 4 bedrooms, making it the perfect place for a romantic weekend or a vacation with the family. Guests can also learn more by logging on today and visiting Thousand Hills Resort in Branson.
# # #