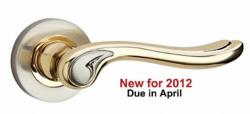 There are many types of handles for doors but among the most favourite because of its durability and appeal are brass door handles
(PRWEB UK) 14 September 2012
Door Handles LTD the UK's leading online retailer for door handles is this week offering their customers some tips on how to keep and maintain their brass purchases. A room's paint colour may be the first thing that catches anyone's attention which is why it occupies the mind of every home or interior designer. However, even errors in small details like the door handles can destroy a room's ambiance. Designers and homeowners should be warned not to take handles for granted when designing a room.
There are many types of handles for doors but among the most favourite because of its durability and appeal are brass door handles. Not all handles are made the same. Some are more expensive than others. More importantly, there are handles that are made specifically for certain types of doors. The front door handles are definitely more exposed to the elements so they need to be sturdier. On the other hand, bedroom door handles already make up the home interiors so it may be important to get handles that will match the home interiors.
Handles made of brass can come in many shapes and designs. The traditional round doorknobs are available in many designs but they are harder to manipulate. Lever handles on the other hand, are easy to open even if both hands are full so they are great for homes where there are children, disabled persons and even seniors. The more modern handles make use of a pin number for entry keeping the home secure. There are also privacy handles in brass for bathrooms and bedrooms.
There are many reasons why homeowners would want specific types of handles for their doors but the primary consideration should be its function and purpose. Luckily, almost all types of handles for the doors are available in brass as it is a very common material. There are many finishes that are available for brass handles so it is wise to consider the room's color scheme to complement it with the chosen brass finish.
For the perfect 19th century home design, any of the brass door handles in pewter or bronze finish would suffice. However, do not forget to add a front door knocker also in brass to keep the theme more realistic. Choose a detailed design for your handles if the door is plain and simple. However, a simpler handle would look great on an intricate door.
It is easy to keep the brass door handles attractive if the home owner knows how to clean the handles. Brass handles are popular because they are not only affordable but also classy because it can look like gold when maintained properly. Brass handles are very romantic but a dirty handle is a turn off so make sure that the handles are kept as clean as possible.
It is important to determine if the handles are made of solid brass or only plated. Any home owner would not want to turn brass door handles into copper and this is exactly what will happen when harsh cleaning solutions are used to clean the handles. When it comes to cleaning brass, it is always a good idea to be gentle so opt for gentle cleaning materials like soap and hot water especially for brass plated handles.