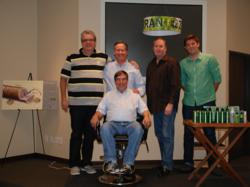 Zerran CEO Steve Sauté comments, "We see many possibilities in this alliance. Brazil is not only South America's largest country, but an important trendsetting hub for beauty, good health and natural products."
Los Angeles, CA (PRWEB) July 18, 2012
As its premier formaldehyde-free, keratin-free smoothing and re-texturizing hair products RealLisse® and Reform® catapult the company to front and center on the global stage, on the eve of annual B2B salon industry confab Cosmoprof North America, Zerran International delivers a trifecta announcement signaling its international intentions are focused, while strengthening strategic marketing efforts and introducing another pro salon product innovation to benefit beauty, in safer and healthier ways. CPNA 2012 will be held at Mandalay Bay Convention Center, 3950 Las Vegas Boulevard South, Las Vegas, NV 89119 from July 22 - 24, 2012. Zerran is exhibiting in Pavilion D at Booth D-17210.
Zerran International has entered into an arrangement to distribute its 100 percent vegan products in Brazil under the auspices of Zerran Brasil, with initial focus on the country's two largest markets, Rio de Janeiro and Sao Paulo. Company principals Jose Figueiredo, Felipe Rechtman and Rony Rechtman visited Zerran headquarters to share new trends and survey other product innovations under development. Zerran CEO Steve Sauté commented, "We see many possibilities in this alliance. Brazil is not only South America's largest country, but an important trendsetting hub for beauty, good health and natural products."
While the professional salon hair care market in Brazil accounts for roughly four percent of the global market, Brazil regularly ranks in the top three worldwide in terms of consumer value, increasing at a faster rate than the United States or Europe. In 2010, Euromonitor reports Brazilians spent $7.9 billion dollars on the sector comprised of toiletries, perfumes and cosmetics, in second place behind the United States. Brazil, the sixth largest economy in the world, is unique in that its 200 million citizens are a melting pot of indigenous, African and European descendants, with 70 percent characterized as having "anything but straight" hair. Heightened by the importance Brazilians place on their personal appearance, the meteoric rise of the middle class in the last decade, and emergence of more educated, wealthier and independent women seeking innovative solutions to daily beauty regimens, Sauté believes the company's vegan salon products have great potential for success.
Zerran's director of distribution operations Grant Samples adds, "There is a highly receptive market for our vegan products and innovations at the international level because of our longstanding focus on health and beauty."
A new marketing initiative aimed at accelerating and simplifying distribution of Zerran's vegan professional hair care systems and support products is set to be unveiled. Central to the new campaign is the presentation of Zerran products in nine functional groups targeting specific hair care categories: Volumizing, Active, Shine, Smoothing, Repair, High Styling, Advanced Professional Services (APS®), Hair Revival and California Classic. A prototype of the new shelf-ready packaging, pricing and product details will be introduced at the show. "For some time now," says Zerran president Steve Sauté, "we've been reviewing, repackaging and restaging our entire line. Thanks to the power of the Internet, our reputation as a well-established vegan innovator has opened many new doors. Global demand has really precipitated this move. This will help our distribution network penetrate new markets efficiently and sensibly."
Zerran will also launch its newest salon product, APS® Resistance Protective Crème, a revolutionary water-soluble shield designed to protect the client's scalp and skin during chemical processes. The crème creates a unique zone of selection, allowing the color, perm, bleach or relaxer to work on hair exactly where applied, yet being repelled wherever the crème protects the skin. After the process is completed, the crème is effortlessly wiped or rinsed away. "APS Resistance is a vegan formula that is water soluble, non-greasy, and fragrance-free. This product makes it easier for a stylist to concentrate on their artistic creativity," says Zerran marketing director Cindy Van Steelandt.
The company's flagship specialty in-salon systems, RealLisse® Vegan Hair Smoothing System and Reform® Natural Hair Re-texturizing System, continue to draw strong international approval and adoption, particularly on the European continent. RealLisse® and Reform® Natural Hair Re-texturizing Systems are EU Reg. 1223/2009 compliant, formaldehyde-free and keratin-free innovations that contribute to a healthier salon environment for both stylist and client.
Zerran Hair Care is a brand that has traditionally resonated with stylists and clients seeking innovative, healthy and efficacious products. Sauté notes, "Once people understand what Zerran is all about, they become passionate advocates, with more stylists coming on board every day."
About Zerran International
Zerran International Corporation is a privately owned manufacturer and global distributor of Zerran Hair Care products for the professional salon industry. Focused on making the salon a healthier environment for stylist and client, the company has formulated and delivered 100 percent vegan shampoos, conditioners and styling products utilizing renewable botanical extracts and essential oils since 1986. Zerran International Corporation is headquartered in Los Angeles, California. For more information, go to http://www.zerran.com or visit Pavilion D, Booth D-17210 during Cosmoprof North America at Mandalay Bay Convention Center, 3950 Las Vegas Blvd. South, Las Vegas, NV 89119. For more information contact: Cindy Van Steelandt, marketing director at (800) 626-1921 or email: cindyv(at)zerranhaircare(dot)com
Website: http://www.zerran.com
Twitter: @zerranhaircare
Facebook: http://www.facebook.com/ZerranIntlHaircare
About Zerran Hair Care Products
Zerran Hair Care products are based on intensive scientific research combined with botanical traditions and the use of botanical extracts and essential oils. Our innovations include the first dermatologically tested, vegan semi-permanent smoothing and re-texturizing systems. Moreover, Zerran products are never tested on animals; our ingredients are in full compliance with EU Cosmetic Products Regulation 1223/2009 commencing July 11, 2013. Our brands include Zerran Hair Care, Zerran Reform® and Zerran RealLisse®. We are committed to supporting and enhancing the art and business of beauty worldwide.
About Zerran Brasil
Zerran Brasil is a privately owned enterprise with exclusive rights to manufacture, market and distribute Zerran Hair Care products in Brazil. Company principals have over six decades of experience in beauty sales, wholesale distribution, manufacturing and foodservice operations and a vision to bring innovative, natural vegetarian beauty products to Brazil's underserved professional beauty marketplace. Zerran Brasil offices are located in Rio de Janeiro and Sao Paulo. For more information, contact: Rony Rechtman, marketing director at +55 (21) 8889.0550 or email: rony(at)zerranbrasil(dot)com(dot)br. Zerran Brasil offices are located at: Avenida Nossa Senhora de Copacabana, 1072 B Sobrelojas, 22060-002 Rio de Janeiro - RJ, Brasil, and Rua Tamoios, 658/SLJ3 Jardim Aeroporto, 04630-001 Sao Paulo - SP, Brasil,
About Cosmoprof North America
Cosmoprof North America is an annual B2B beauty trade show that offers a global perspective on emerging trends, covering the entire spectrum of the beauty industry. Organized by product category on an 183,000 SF exhibit floor in four pavilions, the show attracted 760 exhibitors from 31 countries and 25,000 visitors from 105 countries in 2011. http://www.cosmoprofnorthamerica.com