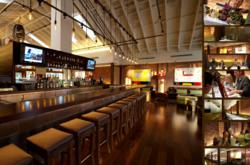 With Oktoberfest in full swing, this month's focus is on beer
Palo Alto, CA (PRWEB) October 27, 2011
Following the success of their Cachaca Pairing dinner in September, Bay Area Brazilian Restaurant, Pampas Restaurant hosted another food pairing event on October 25. This time there will be a five-course food and beer pairing dinner with a range of beers highlighted by a seasonal menu created by Chef Nikki Baverso and focused on citrus and autumn spice notes.
The food and beer pairing dinner was a private event with limited seating. Pampas' Executive Chef Nikki Baverso and Sommelier Moritz Drost will be hosting the event which will include activities like slide show presentations, raffles and live demonstrations.
"With Oktoberfest in full swing, this month's focus is on beer. Whether you're looking for the ideal way to celebrate Oktoberfest, entertaining a group of friends or co-workers, or looking for the perfect way to celebrate a special evening with your significant other, our beer-pairing dinner is an excellent and unique way to celebrate the season, and will be sure to leave a lasting impression," says Moritz Drost of Pampas Restaurant.
Interested guests are encouraged to make reservations. Tickets are priced at $55 and are all-inclusive.
For more information on the Food and Beer Pairing, contact Pampas Restaurant at (650) 319-8041 or visit them online at http://www.pampaspaloalto.com. Pampas Restaurant is located at 529 Alma Street, Palo Alto, CA 94301.
About Pampas Restaurant
At Pampas, the authenticity of the Brazilian churrasco comes to a modern dining emporium where everyone feels at home. The Brazilian restaurant's side bar is brimming with seasonal vegetables, fresh salads and artisanal cheeses. Pampas Restaurant is the Bay Area best steakhouse and serve simply prepared meats, spit roasted to juicy perfection and sliced tableside without limit. Pampas brings a team of accomplished professionals to every aspect of food, beverage and service at the restaurant. The team is committed to providing an extraordinary experience for every guest. Pampas also offers Bay Area restaurant catering.
###