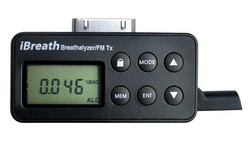 Young people may not listen to parents or party hosts, but they do listen to their iPods
Newport Beach, CA (PRWEB) December 17, 2008
David Steele Enterprises has announced that they will soon be shipping the iBreath, an amazingly compact iPod accessory that lets revelers check their own blood alcohol content to make sure they haven't had too much to drink before getting behind the wheel of an automobile.
iBreath is a fully functioning personal alcohol breathalyzer, which also sports an FM transmitter that wirelessly sends iPod tunes to any FM radio.
"Young people may not listen to parents or party hosts, but they do listen to their iPods," says Don Bassler, David Steele Enterprises Founder and CEO, "Parents who have given the iBreath to family members confirm that iBreath users are more aware of their alcohol consumption and when they should not drive. It also makes a great holiday gift.".
The holiday season brings office parties and celebrations with friends, and also tends to be the biggest time of year for the consumption of alcohol. It's vitally important to be aware of ones alcohol consumption level and iBreath helps party goers think while they drink. It's a life-saving product that enables legal-age drinking adults to party intelligently and responsibly.
It's simple to use. Just fold out the blow wand and exhale into it for at least 5 seconds. Seconds later, this potential jail-saving tool will let users know if they're within the legal limit to drive. It even contains a timer that can be set from 1 minute up to 8 hours in order to remind users when to test again.
According to the National Center for Injury and Prevention Control, alcohol-related (DUI) motor vehicle accidents in the U.S. kill someone every 30 minutes and seriously injure someone every two minutes. The need for safety devices (including alcohol breathalyzers) has never been stronger.
About David Steele Enterprises, Inc.:
David Steele Enterprises, Inc., invented and designed the iBreath and is its exclusive online retailer. Dealership inquiries are welcomed.
iBreath is a registered trademark of David Steele Enterprises, Inc.
iPod is a trademark of Apple, Inc.
Forward Looking Statement Disclaimer:
David Steele Enterprise, Inc. makes no warranties, express or implied, as to the ability of this device to determine whether a user is intoxicated or able to operate machinery or a motor vehicle in a safe manner. Don't Drink and Drive.
###