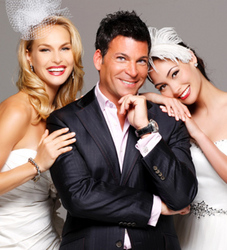 David Tutera · Tips and Trends.
Norfolk, VA (PRWEB) November 15, 2010
Celebrity event planner, gown designer, book author and television star, David Tutera, makes his first ever Hampton Roads appearance at a VIP Event on January, 15 at Hilton Virginia Beach Oceanfront Hotel and the Uniquely Yours Bridal Showcase on January 16, 2011, at Norfolk Scope. Tutera, Life & Style Magazine's "Best Celebrity Wedding Planner," and host of WE television's original series, "My Fair Wedding" will dazzle brides-to-be, event planners and attendees when he offers his expertise to make a bride's special day one never to be forgotten. Boasting a client list which includes luminaries such as Jennifer Lopez, Matthew McConaughey, Elton John, Barbara Walters, The Rolling Stones, Vice President Gore, Kenneth Cole and Tommy Hilfiger, Tutera will not disappoint guests at the Showcase weekend's events.
Media interested in interviewing Mr.Tutera about his successful vision of ballroom design, please contact Tanya Kaish Keller to schedule an interview. Tutera's schedule is as follows:
Saturday, January 15, 2011
9:00 a.m.: Ballroom Design and 7:00 p.m.: VIP Event
Hilton Virginia Beach Oceanfront Hotel, 3100 Atlantic Avenue, Virginia Beach
Brides to be, event planners and guests will get a more in-depth interaction with Tutera by attending the special VIP Event. For only $50 per guest, this evening will include a ballroom designed by Tutera and executed by local professionals. Based on David Tutera's vision, local and regional event and wedding planning professionals will transform a ballroom into a memorable ceremony and wedding reception. Along with garnering matchless décor ideas, guests will enjoy sample offerings by the area's top caterers. As an added bonus during the VIP Event, Tutera will host a special presentation -- "David Tutera · Tips and Trends."
Sunday, January 16, 2011
11:00 A.M. to 5:00 P.M.: Uniquely Yours Bridal Showcase
Norfolk Scope Exhibition Hall, Corner Brambleton Avenue & St. Paul's Blvd., Norfolk
Tutera will emcee the fashion show during the Showcase which will feature wedding attire from the area's two top bridal and tuxedo stores. Get a glimpse of this year's latest designs and colors in wedding gowns from the runways of New York. Glimpse the hottest new styles in bridesmaid's dresses and elegant Mother of the Bride dresses. David Tutera will be available to sign his latest book release, My Fair Wedding based on his successful WE TV series by the same name. It will be available for purchase onsite.
Additionally, a diverse cadre of the most sought vendors from Williamsburg to Outer Banks will be assembled for this bridal showcase to help make a bride's special day as unforgettable and effortless as possible. Each vendor will bring their own creativity to a bride's day making it even more spectacular and giving ideas to make your wedding special.
For tickets, exhibitor and sponsorship information for the Uniquely Yours Bridal Showcase and VIP Event featuring David Tutera, please visit http://uniquelyyoursbridalshowcase.com/ or contact Pearl Taylor at (757) 406-7947, pearltay@cox.net. At the Showcase, brides FREE and guests are $10. All proceeds from guest admissions from Sunday's Bridal Showcase benefit the Susan G. Komen for the Cure Tidewater.
About Uniquely Yours Bridal Showcase
Since 2007, the Uniquely Yours Bridal Showcase has served the wedding community of Hampton Roads. This event is brought to the public by Uniquely Yours by Pearl and Isha Foss Events. The two firms bring more than 27 years of combined expertise in planning exquisite wedding and social events. For more information, visit http://uniquelyyoursbridalshowcase.com/.
###