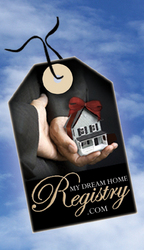 Though blenders and china can be useful wedding gifts, newly married couples these days often have bigger ideas in mind.
Phoenix, AZ (PRWEB) November 8, 2007
The average age of brides and grooms is increasing for the approximate 2.5 million new weddings each year in the United States. Most individuals are already living quite comfortably on their own when that special someone comes along. "Though blenders and china can be useful wedding gifts, newly married couples these days often have bigger ideas in mind." With MyDreamHomeRegistry.Com they can register for the gifts they really want and need for their home.
My Dream Home Registry allows couples to register for just about anything, especially those big-ticket items. Paint, flooring, contractors, and furniture are just the beginning." By combining some of the web's most popular interactive tools, mydreamhomeregistry.com allows couples to completely customize their gift registry centered on individual rooms in their home. They can share plans, upload images, and involve their guests in the process from start to finish.
Friends and family purchase gift units for a given room starting at just $10. When a sufficient amount of money is raised, the couples pay any vendor, retail store, or service provider they choose. Need a plumber, new sofa, or new baby room? Done. Complete freedom for couples to make their own decisions on the items they really need, not just what a particular store happens to offer.
If it sounds complicated, it's not. Registering is an easy 4-step process and couples can return to edit or update their registry any time. MyDreamHomeRegistry.com offers toll-free customer support; free enclosure cards, and advice from professionals in the design and construction industry. My Dream Home Registry is also perfect for Baby Registries, Birthdays, Retirement, or just about any occasion a gift registry is needed.
Company History
My Dream Home Registry was founded by Interior Designer Kristin Hannah and business partner Brian Waspi. Many of the couples friends were just getting married or having a baby. The request for helping with their gift registries lead to an important discovery; that there are many problems with the traditional registries available today:
1. Not everyone wants to buy from the large department stores
2. Boutique stores or other special finds are not available for a registry
3. No cash back policy for returned items so clients were limited to the choices from that store
4. Exact sizes, color schemes, etc. needed to be know before having the baby or design their home
5. Couples could not ask friends & family to purchase a large-ticket item as a gift
6. There were few other choices for people who already had pots and pans & the home essentials
7. Who has time to visit 10 different stores looking for gift options while trying to plan everything else
After trying the different options, and doing research about what was available, the idea for a new concept in gift giving was born; one that successfully avoids the above registry pitfalls while accommodating everybody involved.
For more information please visit http://www.mydreamhomeregistry.com
or Contact Brian Waspi at 800-845-2750 or via email bwaspi@mydreamhomeregistry.com
###