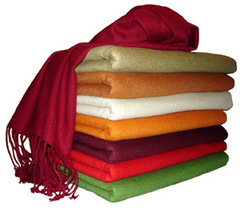 Pashminas are definitely growing in popularity for use in weddings and as bridesmaid gifts
Humble, TX (PRWEB) November 8, 2007
The Pashmina Store, a Texas-based online retailer known for its selection of luxurious two and three-ply wraps, shawls and scarves made from the finest quality Pashmina from Nepal, has set a new trend in bridal fashion with their increasingly popular line of Pashminas. The Pashmina Store line is quickly becoming the trend for keeping the bride warm on her big day, as well as a perfect bridesmaid gift and fashion accessory for the bridesmaids and the mother of the bride and groom.
"Pashminas are definitely growing in popularity for use in weddings and as bridesmaid gifts," said Nattakitta Rhodes, Vice President of Design for The Pashmina Store. "Our wedding sales have increased by at least 40% a year for the last 3 years running. They are such thoughtful gifts that will be worn and enjoyed for years to come while also reminding everyone of the special day."
The top selling colors for weddings and bridesmaid gifts tends to be seasonal. The top-selling 2007 Fall colors include the traditional black and natural off-white along with dark chocolate brown, silver gray, cranberry and midnight blue. The Pashmina Store offers over 40 colors and a variety of animal print designs to go with any dress color.
"For weddings and bridesmaid gifts, silver and gold are certainly a popular trend right now," said Rhodes. "Spring of 2008 is expected to be a colorful season with bright and cheerful tones such as reds, oranges, blues and greens leading the way with silver continuing to grow in popularity."
Since The Pashmina Store was founded in 2000, it has sold more than 125,000 Pashmina products, including thousands for bridal party gifts and wedding day fashion accessories. The Pashmina Store offers a discount on its products for bridal parties of five or more.
Prices start as low as $29.99 for pashmina silk blend scarves and go to $79.99 for a large, 3 ply, pure pashmina shawl.
About The Pashmina Store:
Established in 2003 by Blair Rhodes, The Pashmina Store website was born with the idea of going direct to the consumer to keep prices low and reach as wide an audience as possible. In early 2000, the family visited Nepal, and developed a great appreciation for Pashminas. Seeing firsthand the care and tradition that goes into the making of Pashmina goods, they developed a desire to share them with as many people as possible. Blair's mother, Charlene, started out doing "Pashmina Parties." The Pashmina Store offers affordable prices on top quality pashmina and cashmere goods and free standard shipping in the United States
Media contact:
Nicole Vance
The Winning Pitch
(704) 560-4917
###