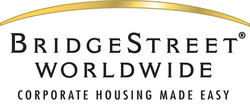 You Deserve a Break Today!
Phoenix, AZ (Vocus) April 7, 2009
BridgeStreet Worldwide, a leading international provider of extended stay apartments for business travelers, announced its opening of a new Phoenix office as part of the company's broader expansion plans in the Southwest. The new office will create 5-10 additional jobs in the next six to nine months and BridgeStreet will host over 500 business travelers in the Phoenix metro area over the course of 2009.
"Phoenix is an immensely populated area, and bursting with government, military and private sector organizations in need of extended stay accommodations," says Bob Barnett, senior vice president of BridgeStreet's US operations. "We are pleased to expand our presence into the Southwest, starting with Phoenix, and confident that BridgeStreet's commitment to client services and innovative programs will drive tremendous growth for our operations."
To kick off its Southwest expansion, BridgeStreet has brought in Phoenix-area veteran Andy Blalock as regional director. "Andy's previous experience in opening Phoenix offices for other corporate housing companies has allowed us to ramp up quickly. He brings a wealth of knowledge regarding the local business community in addition to well established relationships with apartment communities throughout the area," adds Barnett.
The growing number of defense and technology firms in Phoenix represents an enormous opportunity for BridgeStreet, which was recently awarded a GSA contract. "BridgeStreet's GSA certification will open the door for us to work with a variety of federal agencies who have a need for temporary housing, as well was other related government and private entities."
BridgeStreet Phoenix Open House
BridgeStreet Phoenix will be hosting an open house networking event, entitled "You Deserve a Break Today!" on April 30th from 11am - 2pm at the San Cervantes , 400 N. Coronado Street, Chandler, Arizona 85224 (in Chandler off the 101). Please bring canned goods that will be donated to St Vincent De Paul Food Bank and through your donation, enter to win fantastic prizes at the event raffle. BridgeStreet will be offering light refreshments and tours of corporate apartments. All are welcome to attend! Contact Susan Kauffman at 602-558-1344 or susan.kauffman (at) bridgestreet (dot) com to learn more.
BridgeStreet Worldwide is a leading international provider of corporate housing. BridgeStreet and its Global Partner Alliance offer over 15,000 corporate apartments located throughout the United States and 50 cities internationally. An award winner both in the U.S. and Europe, BridgeStreet properties meet uncompromising standards of quality, comfort and service. For more information about the company or to learn more about how BridgeStreet is Making Corporate Housing Easy, visit bridgestreet.com or call 1-800-BSTREET.
Press Contact:
Kelly Murphy - BridgeStreet Worldwide - US - +01 813 909 2445 - kelly.murphy (at) bridgestreet (dot) com
Meg Schramm - BridgeStreet Worldwide - US - +01 571 481 2713 - meg.schramm (at) bridgestreet (dot) com
# # #