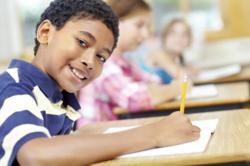 Bright Kids Chicago is proud to announce three new program offerings for the spring.
Chicago, IL (PRWEB) March 20, 2013
Bright Kids Chicago's goal is to reach as many students as possible by offering enrichment programs that are relevant to a broad spectrum of learners. Whether your child has not yet entered Kindergarten or is ready to enter high school, Bright Kids Chicago has a program for everyone.
Bright Kids Chicago is offering two new programs for students looking to finish the school year strong or to get a head start on preparation for next fall's Selective Enrollment Elementary School exams.
For students currently enrolled in Kindergarten through eighth grade, Bright Kids is offering a new Subject Tutoring package that can focus on reading, writing, and/or math concepts. Although state and year-end achievement testing is finished for the school year, students still have time to improve their end of the year MAP, DIBELS, and TRC scores. Also, by continuing to work hard, students can finish off strong and keep their grades at the high level they've strived for since September. This package includes five 45-minute sessions in our office that are all one-on-one, and the curriculum will be customized for each child based on his/her needs. Students can also continue sessions after the initial package runs out at a discounted rate.
For students in Pre-Kindergarten or Kindergarten looking to prepare for next year, we have two packages available. First, for students who would like extra preparation before starting Kindergarten in the fall, Bright Kids is offering a 10-session K Readiness package. This package is offered one-on-one in our office with a customized curriculum that includes instruction in literacy, math, fine motor skills, and expressive and receptive language. This package also includes some of our top-rated publications: our Core Concepts Workbook, "Describe that Word!" card deck, and "What Goes Together?" card deck.
Second, students who would like to begin preparation for the Selective Enrollment Elementary Schools tests for entrance into a Regional Gifted Center or a Classical School can start their preparation early at Bright Kids with our SEES Skill Builder Bootcamp. This Bootcamp is comprised of a diagnostic, given in the first session, which is used to build a customized curriculum, five 45-minute tutoring sessions, and three of our card decks for at-home preparation. The program is meant to provide instruction with a number of hands-on and worksheet-based activities that are engaging and will develop your child's critical-thinking skills for either or both exams. Students participating in this program can easily transition into our SEES Bootcamp in the fall.
Parents who are interested in preparing early at home can also purchase our Regional Gifted Center Preparation Guide and/or ITBS (Classical Schools) Levels 5-6 Practice Test, as well as a number of our Supplemental Materials, which focus on specific skills.
For our youngest students, Bright Kids will be continuing its Preschool Alternative throughout the spring. Studies show that a student develops about one third of their intellectual skills by age six, making it essential to expose young children to academic enrichment. The Bright Kids Preschool Alternative does exactly that, helping them build core skills at a young age. The program combines play-based learning with rigorous instruction, ensuring that your child has the tools they need to be successful when Kindergarten starts, and will give them the foundation to perform well on standardized tests like the Selective Enrollment Elementary Schools exams. The program will run on Tuesdays and Thursday afternoons class for students who are 3 to 4 years of age.
These programs are in addition to our single sessions and our Test Prep Tutoring Packages, which provide one-on-one focused test preparation instruction to students. For more information on any of Bright Kids' spring programs, email info(at)brightkidschicago(dot)com or call 773-270-9001.