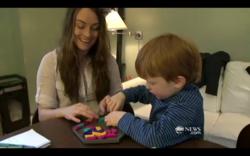 ...the Bracken School Readiness Assessment (BRSA) will be replaced this year with the Naglieri Nonverbal Ability Test (NNAT®2).
New York, NY (PRWEB) April 20, 2012
Bright Kids NYC is proud to announce that 90 percent of our 2011-2012 Gifted and Talented students scored in the 90th percentile or higher on their Gifted and Talented exams! Students' scores were even better this year than the last, thanks to all the hard work put in by the wonderful team of Bright Kids contracted teachers, and of course, the bright kids and their families.
Along with these great results, Bright Kids recently received coverage from ABC's Nightline. On Friday, April 13, 2012, Nightline hosted a full episode entitled "Kindergarten Confidential." Three Bright Kids families, including that of Bright Kids' founder, Bige Doruk, were followed throughout the admissions process to enter one of New York City's Gifted and Talented programs. This episode lends some interesting insight into students tutoring for the OLSAT as well as to the Gifted and Talented placement process. NYC Chancellor Dennis Walcott also shares his perspective on the OLSAT test and the process. If you missed it on television, you can still watch it here on ABC's website.
Parents that are interested in Gifted and Talenetd tutoring for the OLSAT and the NNAT®2 can call Bright Kids to arrange for one-on-one tutoring at their home, at one of Bright Kids' offices, or online. Additionally, each year Bright Kids offers a Gifted and Talented tutoring package called an OLSAT Bootcamp™. The package is a great value for families on tight budgets and consists of 8, 10, or 12 one-on-one tutoring sessions at a Bright Kids office, as well as an initial diagnostic and OLSAT and NNAT®2 preparation materials. It is recommended that parents sign their names on the OLSAT Bootcamp™ Waitlist as class registration is on a first-come, first-serve basis. We anticipate that we will be able to accommodate 300+ children, due to our expansion downtown and the opening of our new Upper West Side location near Columbus Circle.
Bright Kids' curriculum and materials will be adjusted this year as the Bracken School Readiness Assessment (BRSA) will be replaced with the Naglieri Nonverbal Ability Test (NNAT®2). The NNAT®2 is designed to provide a nonverbal measure of general ability, and assesses students on a number of nonverbal skills including pattern completion, analogical reasoning, serial reasoning, and spatial visualization. We have had our NNAT®2 books since 2011 and have already tutored children for the NNAT®2 who were placed successfully into Gifted and Talented programs in places such as Chicago, Illinois, and Chantilly and Arlington, Virginia.
The NNAT®2 test is harder and it tests nonverbal problem solving ability rather than basic knowledge such as colors, numbers, and shapes, which are tested on the BSRA. Therefore, fewer students are anticipated to score in the 90th percentile or above on the Gifted and Talented Test in NYC next year. One thing that is not decided yet is how much the NNAT®2 will weigh in relation to the OLSAT as part of the overall Gifted and Talented placement test score. The NYC Department of Education is expected to make a decision on this in the coming months.
Because of changes to the Gifted and Talented test this year, we recommend parents start early with their OLSAT and NNAT®2 test preparation. Because the NNAT is a highly visual test, parents can start practicing at home using puzzles, tangrams, and patterns to help build early visual discrimination skills. Parents can also purchase books on our website and we will be launching a NNAT®2 preparation book this summer, in addition to our NNAT®2 practice tests, so contact us if you want to be notified when the NNAT®2 Workbook will be available for purchase.
To learn more about Bright Kids or its services, you can reach a representative at 917-539-4575 or visit http://www.brightkidsnyc.com.
Bright Kids NYC Inc. was founded in New York City to educate parents about standardized tests through workshops and consultations and to prepare young children for such tests through assessments, tutoring, and publications.