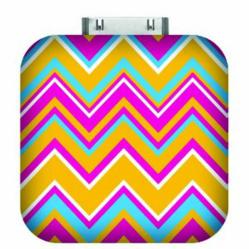 Average iPhone talk time is 8 hrs before needing a recharge, this iPhone accessory can boost talk time by a few hours.
Sussex, Wisconsin (PRWEB) March 14, 2013
One of the newest tech accessories at http://www.brightandbold.com, a popular home & fashion accessories online boutique, is the Power Mate Plus Battery Booster, a portable mobile phone recharger which works with iPhone 3/4/4S models. The average iPhone battery when fully charged provides 8 hours of estimated talk time before needing to be recharged. But if traveling or in meetings or on the go and unable to sit and plug into a wall or car outlet to get the iPhone recharge needed, what happens when the battery runs low?
In a 2011 PEW Study called "Americans and Their Cell Phones", 27% of Americans in the survey said they experienced a situation during the prior month where they were inconvenienced by not having phone access. And 51% had used their phones for quick info retrieval during the prior month, such as finding nearby restaurants or store hours. The most concerning statistic was that 40% of those surveyed had found themselves in an emergency situation where having their mobile phone available had helped them. With statistics like those, it is very important that people are able to keep cell phones charged and usable at all times.
This is where the innovative Power Mate Plus Battery Booster comes in. It's a battery storage unit, so charge it at home or work either with a regular wall outlet or with a computer USB, and then toss it in purse or pocket until needed. Just pull it out, plug it into the iPhone, and it provides an additional 40% battery life to help until it's possible to recharge fullly once again. The couple hours of additional life it gives also provides peace of mind.
These were so innovative and stylish that Every Day With Rachael Ray Magazine featured the iPhone Booster in the December 2012 Holiday Gift Guide. Select from 4 styles of Power Mate Plus Battery Booster at http://www.brightandbold.com/pomaplipbabo.html for $32.95 with free shipping.