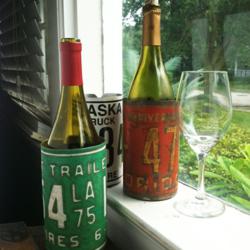 "The artist... wanted to make something stylish and functional from these "forgotten" license plates"
Sussex, Wisconsin (PRWEB) March 15, 2013
BrightandBold.com, an online Eco boutique, has just added a brand new line of Recycled License Plate Bottle Holders to it's ecofriendly gifts collection. Each handmade by an artist from a recycled license plate, they are available in sizes to fit a wine bottle, can or beverage bottle.
When license plates are no longer in use, it is important to dispose of them properly so they are not stolen and used improperly by others. Many people typically put them into regular garbage or recycling bins, however criminals who steal these plates know exactly where to look when they are thrown out this way. Many states recommend turning them in to a car dealer who will properly dispose of them, or bending/destroying the plates so they can no longer be used on a vehicle. Some use hammer and nails to create holes through the plate numbers to render them useless, as well. Many car dealers who do accept old license plates will turn them into a professional recycling center who insure they are no longer useable, then sell them off to collectibles dealers who sell them privately to those who have a hobby of collecting license plates. Artists also source their used license plates this way, and in turn recycle them into beautiful pieces of art.
The artist of these Recycled License Plate Bottle Holders wanted to make something stylish and functional from these "forgotten" license plates, since so many have beautiful scenery and images on them. Even the solid colored license plates have a character all their own. The Bottle Holders bring to life the recycled license plate, showcasing every ding, rust spot and flaw as a piece of character with a story behind it.
Customers can select which state they would like the Recycled License Plate Bottle Holder to be from, although specific plate look and year cannot be requested, due to availability. A wonderful way to celebrate a home state, anniversary, wedding, graduation and more with a tabletop conversation piece for every holiday and picnic.
Recycled License Plate Bottle Holders are now available at brightandbold.com for prices ranging from $32.95 to $34.95 with free shipping.