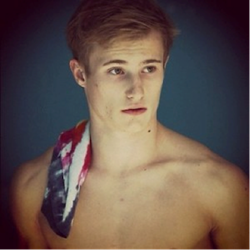 Recovery Phase Swim is fantastic for anyone who swims for sport or exercise. It protects against the effects of chlorine and soothes dried-out skin straight afterwards. I use Recovery Phase moisturiser every day to protect my skin.' - Jack Laugher
London (PRWEB UK) 5 March 2013
In the pool, chlorine dries out the skin and can leave it tight, itchy, sore all over. Open water sports and exercise can cause even more damage, with salt water attacking your natural oils and sapping the moisture from skin.
North Yorkshire-based business Brodie Skin care (BSc) has launched its Recovery Phase skin care products specifically designed and developed for sports and exercise enthusiasts across the UK. Recovery Phase Swim has been designed for use before and after swimming.
Recovery Phase Swim Rehydration Cream was specifically designed for use before and after hitting the water. Apply any time during the day before swimming, the Zinc Oxide and Panthenol Pro Vitamin B5 in the cream, effectively help waterproof the skin and form a soothing barrier. It helps to repair the skins natural pH balance after swimming. Vitamin E, Avocado and Rosehip oils all hydrate and lock the moisture in. Aloe Vera extract is Nature's antifungal, antibacterial and antiviral ingredient, excellent for counteracting any 'nasties' in the water. And, of course, Recovery Phase Swim also contains high levels of active vitamins and antioxidants essential for skin renewal and regeneration.
Founded by husband and wife team Peter and Alison Brodie, BSc aims to corner the market in sports skincare with two new products developed after extensive research into the effects of exercise on the skin. Both Peter and Alison are keen sportspeople, regularly taking part in events and Pete is a keen triathlete. But, neither could find a skincare product that was suitable to repair the damage that exercising outdoors causes to the skin. The answer? Make it themselves.
"I love running and cycling and swimming, but was really struggling with the effects it was having on my skin," says Alison. "And, I couldn't find any face cream products that were suitable for me. So, with my background in Biology and Forensic Science, I thought, why not make my own?" So, after 20 years in the Forensic Science Service, Alison found herself in a very different laboratory – in her own home.
Putting her background to best use, Alison first extensively researched the damaging effects things, like wind and rain have on the skin, not to mention what happens as the body brings acidic sweat and toxins to the surface. Then, with qualifications in Making Natural Skincare and Cosmetic Legislation under her belt, Alison turned her home into a manufacturing facility to perfect the formula for the Recovery Phase products.
"Keeping things natural is very important to me, and my research really opened my eyes about what many products contain and what we put on our skin. So, it was vital for me to make Recovery Phase as effective but as natural as possible."
The result is two new products from BSc, which are already gaining a dedicated following. Team GB diver Jack Laugher is one fan – he took pumps of Recovery Phase Swim with him to Australia, where he won Gold, claiming his fourth junior world championship title.
We've developed Recovery Phase Swim Rehydration Cream to repair the damage caused by anything the weather, the swimming environment and your body's natural detox process can throw at your skin during swimming and exercise. Its pH balanced, ultra-moisturising, non-greasy formula sinks into skin rapidly to deliver intense hydration with nourishing Shea butter, Rosehip, Avocado and Olivem. The cream is packed with powerful levels of antioxidants and vitamins to tackle free radical damage and promote skin cell renewal. For immediate soothing and calming effect, skin saviours have been added in the form of Aloe Vera and Cucumber extracts.
Brodie Skin care products could soon be an essential for every swim kit. Now available oline at http://www.brodieskincare.co.uk.