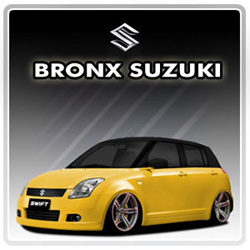 When shoppers visit our dealership, they'll be treated like family by every member of our sales force and squad of expert vehicle technicians."
BRONX, New York (PRWEB) March 24, 2013
Bronx used cars dealers may bring shoppers quality vehicles at great prices, but Bronx Suzuki may be the only one that goes above and beyond to make sure its customers are well taken care of.
In addition, customers will find that the level of quality and customer service that they'll receive at Bronx Suzuki is worth the trip to the dealership, not to mention the lot full of quality vehicles.
"We make sure that our lot of vehicles is always stocked full of great and most affordable vehicles in the market," said Boris Gelfand, General Manager of Bronx Suzuki. "Not only that, but when shoppers visit our dealership, they'll be treated like family by every member of our sales force and squad of expert vehicle technicians."
Bronx Suzuki, one of the very best Bronx used cars dealers around, would like its customers to know about the quality vehicles available there, as well as the specials on those vehicles such as:

2006 Acura TSX for as low as $11,777 with plenty of buying options to choose from
2006 BMW 325i for as low as $12,777 with plenty of buying options to choose from
2008 Audi A4 S-Line for as low as $16,777 with many ways to buy
2008 Infiniti G35 for as low as $19,777 with plenty of ways to purchase
Bronx used cars dealers like Bronx Suzuki enjoy giving customers the very best, but Bronx Suzuki may be the only one that makes sure everyone is taken care of and gets what they need.
About Bronx Suzuki
For more information about Bronx Suzuki, please visit http://www.bronxsuzuki.com or call 888-296-3748.
Bronx Suzuki brings to its customers plenty of quality vehicles to choose from. Whether customers are looking for great deals, specials, vehicles, or all of the above, Bronx Suzuki is standing by to give them some of the best service, sales, promotions and quality vehicles local Suzuki customers may not be able to find anywhere else. Bronx Suzuki is conveniently located at 41001 Boston Road in Bronx, NY 10466.
About Nexteppe (http://www.nexteppe.com):
Nexteppe provides dealerships with a dedicated support team and a full suite of all-in-one products including InControlPro, Comment Builder and ProSHOTS. Take your dealership inventory marketing and management to the next level with Nexteppe. Learn more about how we can enhance your website's design and enhance your inventory marketing and management by visiting us on the web or calling our New York office at 888-572-8892.