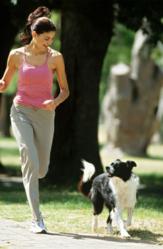 Knoxville, TN (PRWEB) March 28, 2013
April is the ASPCA's Prevention of Cruelty to Animals Month, a campaign created to raise awareness of the difference people can make in animals' lives. Pets, too, can have a significant impact on human lives, and during the month of April, Brookhaven Retreat promotes awareness of the benefits of pet ownership for women recovering from mental health issues.
Animals provide emotional benefits to their owners: they offer unconditional love and affection, the stability of routine and an instant mood lift. However, they also require responsibility, a stable environment, routine exercise and regular care and feeding. For women with mental health issues, caring for pets can be difficult.
Women suffering from bipolar disorder and other mental health issues often live on erratic schedules and experience difficulty functioning that can make caring for a pet difficult. However, studies show that animals provide a variety of mental and physical benefits that are worth considering.
The physical benefits of pet ownership are well documented. A Kean University study found that spending time with animals lowers levels of the stress hormone cortisol. Pets also encourage women to be active by providing a reason to go outside, whether to jog, walk or simply toss a ball. The CDC reports that physical activity reduces risk of depression, sleep loss and physical illness, all factors that can lead to mental health issues. It recommends 30 to 60 minutes of varied activity three to five times a week, something that is easily attainable while caring for a pet.
Caring for an animal adds positive focus to a woman's life. Pets require a great deal of responsibility to feed, bathe, exercise and keep healthy, which reminds women who may have forgotten how able they are. Caring for a companion animal inspires women to care for themselves; women create a routine around their pets, which creates a mindfulness of healthy habits that encourages maintenance of medication, meal time and self-care schedules.
Women with animals rarely feel the same loneliness and isolation that they did before owning a pet, as animals offer constant companionship and a comforting presence that has been shown to lower heart rate, depression and anxiety risk. Additionally, animals help women avoid isolation; a University of Warwick study found that people are 21 times more likely to stop and talk to someone with a dog that someone without. Another study published by the American Psychological Association reported that pet owners tend to experience greater self-esteem and extraversion. Pet owners were also found to experience higher levels of happiness and feelings of belonging.
Brookhaven Retreat's life realignment program helps women with mental health and substance abuse issues establish healthy lives following treatment. It evaluates thirty aspects of a woman's life to construct a safe and happy whole that supports lifelong mental wellness.
Pets can be an integral part of creating a life worth living, and Brookhaven Retreat's program helps women carefully consider the benefits of having animals in their lives. The healthy habits women maintain while caring for a pet support mental health through the establishment of healthy activities and set schedules.
In April, Brookhaven Retreat promotes awareness of the mutually beneficial relationship between women and animals. By caring for a treasured pet, woman may continue their journeys of wellness with the unconditional love and emotional support of a cherished friend.
About Brookhaven Retreat
Brookhaven Retreat is a women's treatment center nestled on a naturally beautiful 48-acre site secluded in the foothills of the Great Smoky Mountains. It has helped hundreds of women across the United States overcome depression, trauma, anxiety, substance use and a range of other behavioral health challenges. Brookhaven's Founder, Jacqueline Dawes, has predicated its gender-specific treatment on "healing emotional breakage" for women. In this way, she has established a sanctuary and a place where women can feel safe, secure and cared for by a staff of highly trained professionals.