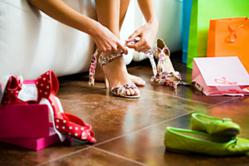 Knoxville, TN (PRWEB) November 01, 2012
In recognition of Buy Nothing Day on November 24, Brookhaven Retreat recognizes the serious impact that shopping addiction can have on women's lives.
We live in a culture of materialism in which accumulation is often equated with happiness, and some women find themselves focusing more on purchasing material goods than on enjoying their lives. When buying things does not create lasting happiness or alleviate feelings of anxiety, depression or trauma, women find themselves buying more. They may attempt to hold onto fleeting feelings of happiness through accumulation, but buying more does not make for better or happier lives.
When shopping is used to cope with anxiety, depression or trauma, when purchases are unnecessary, take a financial toll or are hidden from family members, shopping may have developed into an addiction.
In many cases, shopping addiction is treated as a problem rather than a symptom of a more complicated root cause. Brookhaven Retreat focuses on shopping addiction as a symptom whose cause is usually a feeling of emptiness or lack of self-worth.
Brookhaven Retreat believes that healing from addiction comes from loving oneself, and provides an encouraging, non-punitive environment for women to develop self-esteem, awakening and growth. Brookhaven Retreat helps women come to the realization that material goods do not provide relief from depression or anxiety, and that they do not need material goods to be extraordinary.
Buy Nothing Day began in an effort to increase awareness of the negative impact of materialism on society. Brookhaven Retreat encourages women to buy nothing for one day or even one week and see the profound impact this can have. Women can also practice mindful shopping by evaluating the necessity of each item, analyzing their feelings as they shop and avoiding unnecessary browsing.
Through the cultivation of mindfulness and self-esteem combined with appropriate therapy tools, women can overcome their addiction to shopping and discover happiness with themselves.
About Brookhaven Retreat
Brookhaven Retreat is a women's treatment center nestled on a naturally beautiful 48-acre site secluded in the foothills of the Great Smoky Mountains. It has helped hundreds of women across the United States overcome depression, trauma, anxiety, substance use and a range of other behavioral health challenges. Brookhaven's Founder, Jacqueline Dawes, has predicated its gender-specific treatment on "healing emotional breakage" for women. In this way, she has established a sanctuary and a place where women can feel safe, secure and cared for by a staff of highly trained professionals.