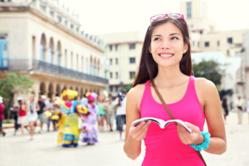 Knoxville, TN (PRWEB) March 12, 2013
March spring breaks and holidays are right around the corner, meaning that the spring travel season is about to begin. To prepare for the anxiety that March travel can create, Brookhaven Retreat teaches women the skills required to travel without endangering mental health.
Taking a trip can pose unique problems for women with mental health or substance abuse issues. The disruption of healthy habits, lack of familiar surroundings and change in carefully maintained structure can threaten recovery. Similarly, the culture shock, crowding and unexpected situations that may arise during foreign travel can create significant anxiety, also endangering mental health.
Creating a travel plan can help women suffering from mood disorders or other mental illnesses prepare for any possibility. All women should be able to travel should the need arise, as it inevitably does. A comprehensive contingency plan will prevent the uncertainty of travel from endangering emotional recovery.
As part of its life realignment program, women at Brookhaven Retreat learn to travel without endangering mental health. First, women decide whether or not to make the trip. Travel destination impacts how safe it is for a woman with mental health or substance abuse issues to visit. Areas that trigger unhealthy behavior or have been the site of significant trauma are best avoided completely. It is better not to travel than to pose risk to mental health.
Changes in environment, climate and time zone can create significant obstacles to proper sleep. It is crucial for mental well-being that women get enough rest; research from the University of California, Berkeley and Harvard Medical School found that lack of sleep can both cause and aggravate mental health issues.
The CDC recommends that adults get seven to nine hours of sleep per night. Women in treatment learn to avoid the nutritional and physical triggers for poor sleep and create the routine habits that ensure the CDC's target is easily reachable. These healthy habits can be applied anywhere on the road so that travel does not provoke the emotional fatigue and mental health issues associated with poor sleep patterns.
Women also learn the importance of consulting a doctor or psychiatrist before traveling for an extended period of time, as medication dosages may have to be adjusted across time zones. Women should secure enough medication for the entire trip and know how to safely store prescriptions during travel.
Brookhaven Retreat's life realignment program targets every aspect of a woman's life so that women learn the skills to safeguard recovery and live fulfilling lives free from mental illness. As part of this program, women learn to travel without endangering mental health.
This March, women become prepared to travel in any circumstance without compromising mental health through the unexpected. With time and patience, women gain freedom from emotional breakage and are able to create lives worth living.
About Brookhaven Retreat
Brookhaven Retreat is a women's treatment center nestled on a naturally beautiful 48-acre site secluded in the foothills of the Great Smoky Mountains. It has helped hundreds of women across the United States overcome depression, trauma, anxiety, substance use and a range of other behavioral health challenges. Brookhaven's Founder, Jacqueline Dawes, has predicated its gender-specific treatment on "healing emotional breakage" for women. In this way, she has established a sanctuary and a place where women can feel safe, secure and cared for by a staff of highly trained professionals.