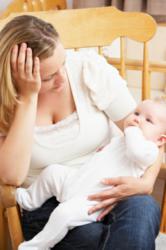 Knoxville, TN (PRWEB) December 19, 2012
Dr. Jennifer Payne, Director of the Johns Hopkins Women's Mood Disorder Center and expert in the treatment of peripartum depression, visited Brookhaven Retreat on Dec. 4 and Dec. 5. Brookhaven Retreat was able to interview Dr. Payne about her experience in the treatment and prevention of postpartum mood disorders.
Dr. Payne specializes in studying the genetics of postpartum depression. She studies environmental influences on gene expression and tries to find both biological and clinical markers for the later development of postpartum depression so that early intervention can prevent women from becoming depressed during the postpartum time period.
Postpartum depression occurs after pregnancy and, aside from causing distress to the mother, can affect the health of the newborn child. Studies show that postpartum depression can result in lower IQ, slower language development and a greater chance of ADHD in children of depressed mothers. It is thought that depressed mothers are not able to provide their children with adequate emotional and physical stimulation in the form of speaking, smiling or playing and this leads to poorer outcomes for the children.
Any woman of childbearing age is at risk of being affected by postpartum depression. Fifty percent of pregnancies are unplanned, meaning that women may experience stress and emotional difficulties surrounding their pregnancy that may put them at increased risk of postpartum depression.
Especially at risk are women with a family history of postpartum depression, mental illness, greater than average pre-menstrual mood symptoms or stress. Above average sleep disturbance during pregnancy also predicts greater risk of postpartum depression.
Women suffering from postpartum depression often decline to seek help for fear that they will expose their children to antidepressant medications through their breastmilk. However, a 1999 study by Birnbaum et al. titled "Serum Concentrations of Antidepressants and Benzodiazepines in Nursing Infants" shows that only a small amount of psychiatric medications enter breast milk. There have been no long-term studies, but a 2002 study by Simon et al., "Outcomes of Prenatal Antidepressant Exposure" suggests that babies exposed to antidepressants through breast milk have similar IQ's to unexposed babies, unlike babies exposed to untreated maternal depression."
Women who are breastfeeding should consult with their doctors as well as their pediatrician before taking any medications, including psychiatric ones. It is important that women who are receiving psychiatric treatment be considered as potential future mothers. Plans for pregnancy and the postpartum time period should be discussed prior to pregnancy if at all possible. Dr. Payne also encourages women experiencing postpartum depression to seek help immediately in order to minimize the risk to their children.
Brookhaven Retreat believes that all women should create a pregnancy treatment plan regardless of whether they are pregnant or planning to be pregnant in the near future. Life is full of surprises; it is important to be ready for anything, and a comprehensive health care plan that includes the possibility of pregnancy reduces mental health risks for women and children alike.
About Brookhaven Retreat
Brookhaven Retreat is a women's treatment center nestled on a naturally beautiful 48-acre site secluded in the foothills of the Great Smoky Mountains. It has helped hundreds of women across the United States overcome depression, trauma, anxiety, substance use and a range of other behavioral health challenges. Brookhaven's Founder, Jacqueline Dawes, has predicated its gender-specific treatment on "healing emotional breakage" for women. In this way, she has established a sanctuary and a place where women can feel safe, secure and cared for by a staff of highly trained professionals.