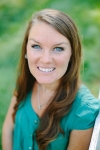 Knoxville, TN (PRWEB) November 15, 2012
Brookhaven Retreat's dietitian, Ashley Coulter, RD, LDN, attended the 22nd Annual Renfrew Center Foundation Eating Disorders Conference for Professionals on Nov. 9 through Nov. 11.
This conference focused on the latest eating disorder research and how diverging points of views have resulted in the polarization of perspectives on how to treat eating disorders and food related issues. The conference focused on building cohesion and finding collaborative solutions to these issues.
Main topics provided insight into the internal experience of having an eating disorder, how to incorporate neurobiological research into treatment goals, the mental health ramifications of weight-loss methods for the overweight, and the unique treatment requirements of binge eating disorders and disordered eating.
"The biggest thing the conference brought to my work at Brookhaven is the incorporation of neurobiological research and personality traits as they relate to eating disorders," Ashley said. She said that the conference allowed her to better understand the women she works with and thus better tailor nutritional plans to their individual emotional needs.
Brookhaven Retreat views disordered eating as a sign of underlying mental health issues that manifest themselves as a negative relationship with food and the body. Women with these issues have low self-image and self-love.
Brookhaven Retreat focuses rebuilding confidence and self-esteem, and teaching women to develop the tools to live healthy lives. Ashley applies the mindfulness skills learned in DBT Therapy to eating, so that women become aware of their eating habits and learn to feed their bodies based on internal cues rather than rules and restrictions. This, combined with a full spectrum of therapeutic modalities teaches women to overcome the destructive mental health problems that have harmed their bodies and their lives.
About Brookhaven Retreat
Brookhaven Retreat is a women's treatment center nestled on a naturally beautiful 48-acre site secluded in the foothills of the Great Smoky Mountains. It has helped hundreds of women across the United States overcome depression, trauma, anxiety, substance use and a range of other behavioral health challenges. Brookhaven's Founder, Jacqueline Dawes, has predicated its gender-specific treatment on "healing emotional breakage" for women. In this way, she has established a sanctuary and a place where women can feel safe, secure and cared for by a staff of highly trained professionals.