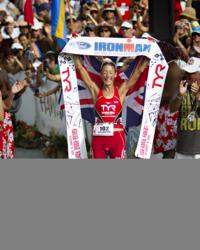 The T7 Racer is an amazing shoe! I love the way Brooks modified it to suit my specific needs, and that they've created a promotion around this shoe that supports a cause that's important to me.
Bothell, WA (PRWEB) October 18, 2011
Brooks Sports sponsored athlete Chrissie Wellington crossed the finish line with tears of joy and the British flag held high to reclaim her title as World Champion at the Ford Ironman® World Championships in Kona, Hawaii. Running happy even in the final miles, Wellington completed the race in a time of 08:55:08 to earn the top spot on the podium for the fourth time.
The race was won by Wellington on the run. After a slow swim performance due to injuries from a bike crash just two weeks ago and fast bike times by her competitors, she started out the marathon in sixth place, 21 minutes back from the leader. During the first half of the run, Wellington continued to pick off her competitors. She eventually took the lead near mile 16 and never looked back. Her finishing time of 08:55:06 was the second fastest women's time ever at Kona. The first being Wellington's course record of 08:54:02 from 2009.
"Chrissie is the epitome of Brook's "Run Happy" ethos, and she proved that today not only with her amazing performance, but the way she smiled and pushed herself hard throughout the entire race," said Dave Larson, Brooks vice president of marketing. "We are inspired by Chrissie's passion and the way she motivates her fans to run and be active, and are proud to have her as part of the Brooks team."
In celebration of Wellington's triumphant return to Kona, Brooks is selling 200 pairs of a limited edition "Wellington" T7 Racer. All proceeds from the shoe sales will be donated to the Blazeman Foundation for ALS, a charity created in honor of the late Jon "Blazeman" Blais, the only individual with ALS to complete an Ironman and a close friend of Wellington's. This special version of the ultra lightweight, flexible racing flat includes:

An early release of the new bright NightLife color that will officially launch in Feb. 2012
Convenient loops on tongue and heel for easy transition from bike to run
The British flag on the heel celebrating Chrissie's heritage
"War on ALS" inscription on heel area overlay in honor of Jon "Blazeman" Blais and the Blazeman Foundation
A special message on the sockliner wishing Chrissie good luck!
The limited edition T7 Racer is being sold exclusively on http://www.brooksrunning.com for $85 each, while supplies last.
The Blazeman Foundation is a charity close to Wellington's heart. The foundation's mission is to raise awareness about ALS by leveraging the energy, commitment and compassion of the multi-sport community and to raise funds that help further scientific research to find treatments and an eventual cure for ALS.
While Wellington has trained and competed in Brooks shoes for several years, she chose to name Brooks her official performance running shoes in January 2010. She is the first triathlete to join Brooks' elite group of professional athletes.
For more information about Chrissie Wellington, other Brooks professional athletes, or to purchase a pair of the "Wellington" T7 Racer, please visit http://www.brooksrunning.com.
About Brooks
Brooks Sports, Inc. is a leading running company that designs and markets a line of performance footwear, apparel, and accessories in more than 60 countries worldwide. A subsidiary of Berkshire Hathaway Inc., Brooks was founded in 1914 and is headquartered in Bothell, Wash., near Seattle. The company's mission is to inspire everyone to run and be active by creating innovative gear that keeps them running longer, farther, and faster. Visit http://www.brooksrunning.com for more information, and to follow frequent brand updates on Twitter (@brooksrunning) and Facebook (Brooks Running).
About Chrissie Wellington
Get to know Chrissie Wellington, including her races, results, and other sponsors, at her Website or her Facebook page.
# # #