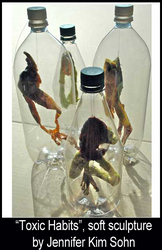 Eco-Art: Past, Present and Future
Berkeley, CA (Vocus) June 8, 2010
The first all day eco-arts conference is being held at Berkeley's David Brower Center. Over 100 artists are coming together to discuss where eco-art is headed and how eco-art brings their message to the world.
The Women's Caucus for Art (WCA) presents a juried art exhibition, "Blue Planet" where 40 artists present 75 pieces exploring social, political and economic issues related to water. The free reception is on June 26th from 5 – 7pm, SOMArts Cultural Center at 934 Brannan Street, San Francisco.
Assemblymember Nancy Skinner, of the 14th Assembly District, is delivering a welcome letter to be read during the WCA conference morning introductory ceremony.
Skinner served on the Berkeley City Council and is responsible for many of Berkeley's groundbreaking environmental policies, such as the nation's first ban on Styrofoam in 1988. The following is an excerpt from the Assemblymember's letter:
"... art and activism through art is an incredibly important force that we must preserve during these difficult economic times in our great state. Art education, performance, practice and exhibition are integral to the future of our children and the preservation of a high quality of life.
For 38 years the Women's Caucus for the Arts has championed female artists, art historians, students, educators and museum professionals by highlighting their contributions to our communities..."
The Elements Eco-Conference is at the David Brower Center in Berkeley, June 25th, 8:30am – 5pm. The downtown Berkeley BART station is one block from the Brower Center.
The Elements eco-conference features:

Welcoming statement by State Assemblymember
Panels by eco-artists and ecologists throughout the day
Eco-film festival in the morning
Gourmet lunch
Discussion groups
Art-making in the afternoon
Performance art in the lobby in the afternoon
Activism awards ceremony in the late afternoon
The panels are "Eco-Art: Past, Present and Future", "Collaboration and Community", and "Activism: Making a Difference".
The eco-film festival includes: "Dirty Secret" from the National Geographic Society series "Strange Days on Planet Earth", "Fierce Green Fire" by Mark Kitchell, and films by Basia Irland, a noted documentary filmmaker.
An amazing San Francisco dance company, "Capacitor", provides visually stunning and mindfully confounding performance pieces - some call it modern dance, while others call it a religious experience.
The Elements conference has green-art activities for everyone. Conference goers can recycle their old conference badges rather than have new ones issued, trade unique, old, enhanced postcards, sit at labeled discussion tables during lunch. The event is catered by Back to Earth, which uses only fresh local, sustainable, organic ingredients.
Registration fee is $90 online in advance, $125 at the door (if available).
Eco-art-curious people can register online at http://elements.eventbrite.com/.
David Brower Center Contact Information: (510) 486-0286, 2150 Allston Way, Berkeley, CA 94704
SOMArts Contact Information: (415) 863-1414, 934 Brannan Street, San Francisco, CA 94103-4906
About the conference organizers:
The "Elements" eco-art conference and "Blue Planet" eco-Art show are organized by the California chapters of WCA. For more information visit http://www.sbawca.org/blue_planet/
# # #